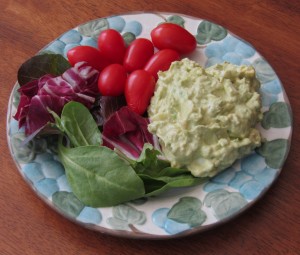 I hadn't done much grocery shopping since coming home from the Weston A. Price conference late Monday so my choices for lunch today were limited.  I had one boiled egg and one good avocado left in the refrigerator, so what could I do with those.   Egg salad came to mind but I wasn't sure about adding an avocado.  Anyway, I decided to try it, and it turned out to be delicious and satisfying, as well as healthy.  Interesting looking too–pale green egg salad.
Here's how I put it together:
Avocado Egg Salad
1 boiled egg, chopped (preferably from pastured chickens)
1 small organic Haas avocado
1 to 2 tablespoons homemade mayonnaise (from Kelly the Kitchen Kop)
Sea salt (Celtic Sea Salt) to taste
Freshly ground organic black pepper to taste
In a small mixing bowl, mash avocado with a fork.  Add chopped boiled egg, mayonnaise, salt and pepper.  Combine well.
I ate my salad with organic grape tomatoes and organic baby greens.
I had made the mayonnaise the day before, but it failed, and I was so thankful that Kelly had found a way to save the mayo.  It worked!