What's for dinner? Round steak and veggies!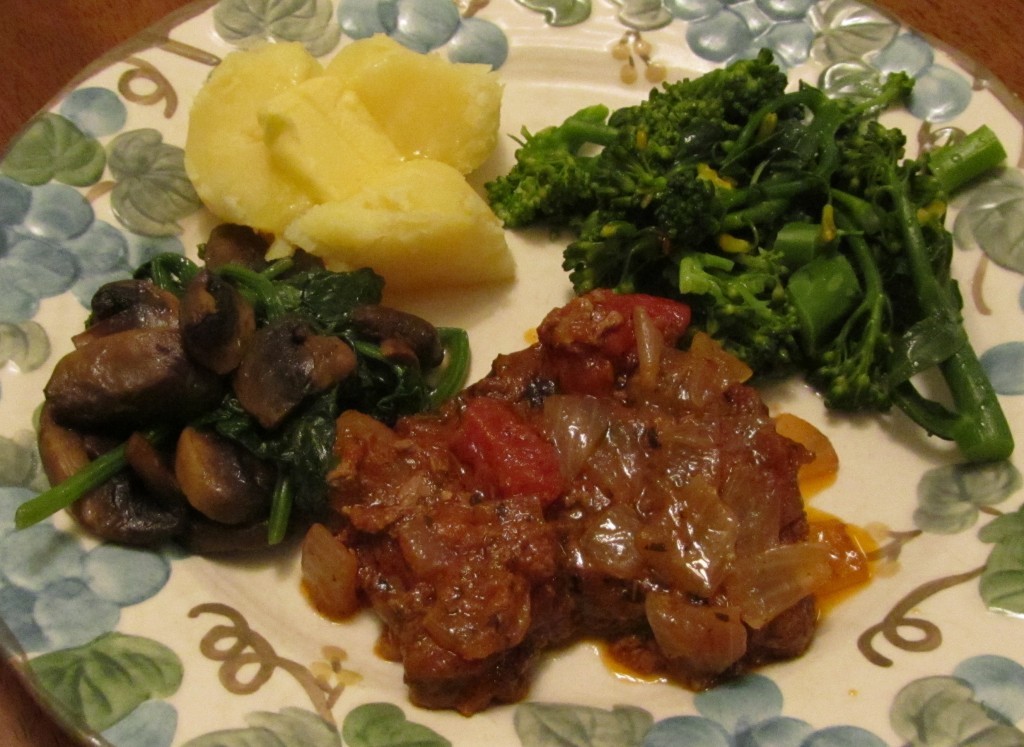 This is the first of a new series I'm calling 'What's for dinner?'  I don't know how often I'll have a new post, just whenever the dinners we have turn out especially good. Today's highlight is a delicious, tender roundsteak, part of our just-received side of beef from local grassfed beef rancher, Ray Law at Law Ranch Cattle Company.  We've ordered beef from him before, but this beef is even better than the last, and I didn't think that was possible.  By the way, buying a side at a time is the most economical way to buy grassfed meat.  You will need a freezer.  Here's how I prepared the meal:
Round steak:
Brown the roundsteak in butter and coconut oil, then add a chopped onion, cook until slightly browned and softened.  Add a can of organic diced tomatoes, some organic dried Italian seasoning and organic dried basil, about a teaspoon each.  I don't measure the seasonings, I just pour some in my palm and rub it around before adding to the skillet.  Add sea salt and freshly ground black pepper to taste, about a 1/2 teaspoon of salt and 1/4 to 1/2 teaspoon of pepper. Simmer the meat, tomatoes, onions, and seasonings for about one hour.
While the meat simmers prepare the veggies.
Spinach and mushrooms:
Wash and allow to drain local farmers market spinach. Clean and slice 8 oz. organic mushrooms.  Brown mushrooms in 2-3 tablespoons butter (about 5 minutes), then add drained spinach and cook until wilted (about another 5 minutes).
Broccoli:
Wash and cut into flowerets local farmers market broccoli.  Put the broccoli in a cup or so of filtered water and bring to a boil.  Simmer for about 5 minutes, then drain.  Serve with butter and sea salt.  I test for doneness with a fork at five minutes.
Yukon gold potatoes:
Wash and peel well the organic potatoes (these are not local).  Cut the potatoes into fairly even chunks.  Put into a pan and cover with filtered water.  Bring to a boil and simmer for about 20 minutes, depending on the size of the chunks.  Test for doneness with a fork.  Drain.  Serve with butter, sea salt and pepper.
Even though the first serving of this meal was super delicious, I decided to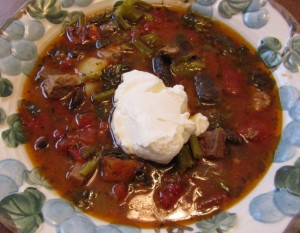 turn the leftovers into my Leftover Soup.  What's Leftover Soup?  It's the absolutely most delicious way to eat leftovers, whatever they are.
For this batch of Leftover Soup, I cut the remaining meat and veggies into bite size pieces and put them in a medium size pot.  I added a can of organic chilies and tomatoes, a pint of reduced chicken stock (from bone broth prepared earlier and stored in the freezer), and about a cup of filtered water.  I brought the soup mixture to a simmer and heated it for about 15-20 minutes to blend flavors.  We ate our Leftover Soup with a squeeze of organic lemon juice and a spoonful of drained raw milk yogurt.
I guess you will notice that I cook and serve with lots of butter.  That's normal for us.  We love butter!  This meal probably used almost a half cup of butter for cooking and seasoning.  Butter is good with many foods.
The only hard decision–whether the original meal or the Leftover Soup was more delicious.
Brands I use:
Organic Valley Cultured Pastured Butter
Tropical Traditions Gold Label Coconut Oil
Celtic Sea Salt
Muir Glen tomatoes
Frontier organic herbs and spices
Pure Milk Farms raw milk yogurt
This post is also available on Monday Mania at The Healthy Home Economist.