Berries and Cream — Quick and Easy and Oh So Good!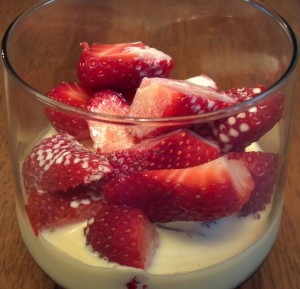 The season for fresh local berries is coming soon, maybe already here for some, so what's the best way to eat them?  Of course, just wash and eat is the first way.  When the berries are fully ripe, that's quite delicious.  Then there are the sugary desserts–pies, crumbles, cakes, and fools.  But what if you want something just a little more than a handful of fresh berries, you don't want to spend a lot of time making it, and you want something just as delicious and beautiful?  Well, here's the perfect solution–berries and cream.  Yes, simply berries and cream.  Couldn't be easier.
Here's the recipe (so simple, a recipe seems unnecessary):
Berries
Farm-fresh raw cream
Wash and dry the berries, put them in one or more dishes, and pour on a little cream, to taste.  Slice strawberries, if they're large.  Most other berries are best whole, whatever is local and fresh.  If store-bought use organic berries.   That's all! In only a very few minutes this dessert or snack is done and ready to eat.
For the best flavor and nourishment, I recommend using farm-fresh raw cream from a local licensed raw milk dairy.  The cream in the photo is from Stryk's Dairy near Schulenberg, TX.  There's enough sweet creamy richness to the raw cream that adding sweeteners is not necessary.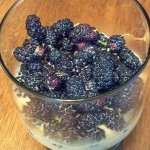 My current favorite combination is ripe strawberries and cream, but the local mulberries I found at the farmers market last Saturday are also delicious.  I can't wait for fresh blueberry season here in Houston.  Blueberries and cream are also wonderful.
And I got to eat these berries and cream after taking the photos!  Can't beat that!