Revisit – Moroccan Bowl at the Menil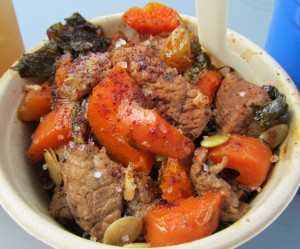 I was really happy that I could revisit the Bare Bowls Kitchen food truck.  They often park at the Menil on Thursdays, so my daughter, the food truck foodie, and I both got ourselves a Moroccan bowl and a drink.  I had Very Berry Kickin' Kombucha with my Moroccan bowl and my daughter had the Bare Bowls special green tea with fresh strawberries.  This bowl was just as good as the Lamb Bowl I had in April at the Wabash Antiques & Feed Store.  This one was on a bed of two kinds of local organic rice, basmati and brown, covered with chunks of tender, juicy grassfed beef and a mix of carrots, kale, golden raisins, red bell peppers, and a special highlight–crunchy pumpkin seeds.  The flavorful spices and touch of coarse salt sure did enhance the flavors. Again–my bowl was deeelicious!  Best of all, I don't need to feel guilty eating a bowl–the food is REAL.
By the way, Kickin' Kombucha (and how many food trucks or restaurants offer kombucha–not many!) is a local Houston company that not only produces a traditionally prepared kombucha but has committed to sustainable farming practices.  They compost their tea leaves, fruits, and other plant foods; they reuse and recycle; and they buy local whenever possible.
After enjoying our lunch, we visited the Menil Collection, as usual free and interesting.  On display that day were items ranging in age from thousands of years old to recent photographs.  It was a very good afternoon.  I look forward to my next time bowling with Bare Bowls, maybe in still another location.