What's for dinner? Grassfed beef chuck roast, potatoes, carrots, and corn-on-the-cob!
This edition of What's for dinner? is another of my favorite kind of meal–traditional, easy, nutritious, and oh so delicious!  REAL comfort FOOD!  I've been making pot roasts like this for many years but now I use local grassfed beef and organic vegetables whenever possible.  Here's how I made dinner:
What you need:
1 grassfed beef chuck roast, preferably bone-in
1 – 2 potatoes, cut into chunks
2 – 3 carrots, chopped
1 onion, chopped
1 – 2 tablespoons coconut oil, for browning meat
1-1/2 cups filtered water
1/2 cup red wine
Sea salt, about 1/2 to 1 teaspoon
Freshly ground black pepper
How to prepare the roast: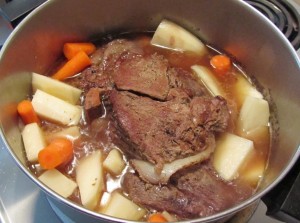 Melt coconut oil in large pot (this was a fairly small roast so I used a 4 quart pot) over medium heat.  Brown meat on all sides.  Add red wine, water, salt, pepper, and onion to the pot.  Bring to a good simmer, cover pot, and simmer for about 2-1/2 hours.  Add chopped potato and carrot; simmer for about 30 more minutes.
Corn-on-the-cob:
A pot roast is really a meal in itself with the potatoes, carrots, and broth, but for this meal I added corn-on-the-cob, a rare treat I've loved all my life.  My granddad had a backyard garden when I was very small and I still remember very well how good the corn was when fresh from the garden.  I grew up in the suburbs so fruits and vegetables from granddad's garden were the only home-grown foods I had.  The Saturday before making this pot roast, I had found fresh (not dried out) organic corn at my local nutrition center (Erma's in Nassau Bay).  Yep, this corn was very good–it lived up to my memories.
To prepare the corn, I removed the shucks and silk and snapped the large ears in half.  I put them in a pot with filtered water to cover and brought it to a boil.  I removed the pot from the heat and let it sit, covered, for about 5 minutes.  As you can see, I served the corn with a large pat of butter to melt all over the hot corn.
Leftover soup:
Of course, pot roast is such a good excuse for one of our favorite dishes later in the week–leftover soup.  Here's what I put into the soup pot: cubed beef, potatoes, and carrots from the roast, some cut up green beans leftover from another meal, the beef juices (which had gelled nicely), chicken juices (also gelled) and fat leftover from a roast chicken, and a large can of diced tomatoes.  I simmered the soup for about 20-30 minutes.  We usually eat beef leftover soup with a dollop of drained yogurt or sour cream and/or grated cheese.  UMMM Good!