Food Treasures at Houston's Revival Market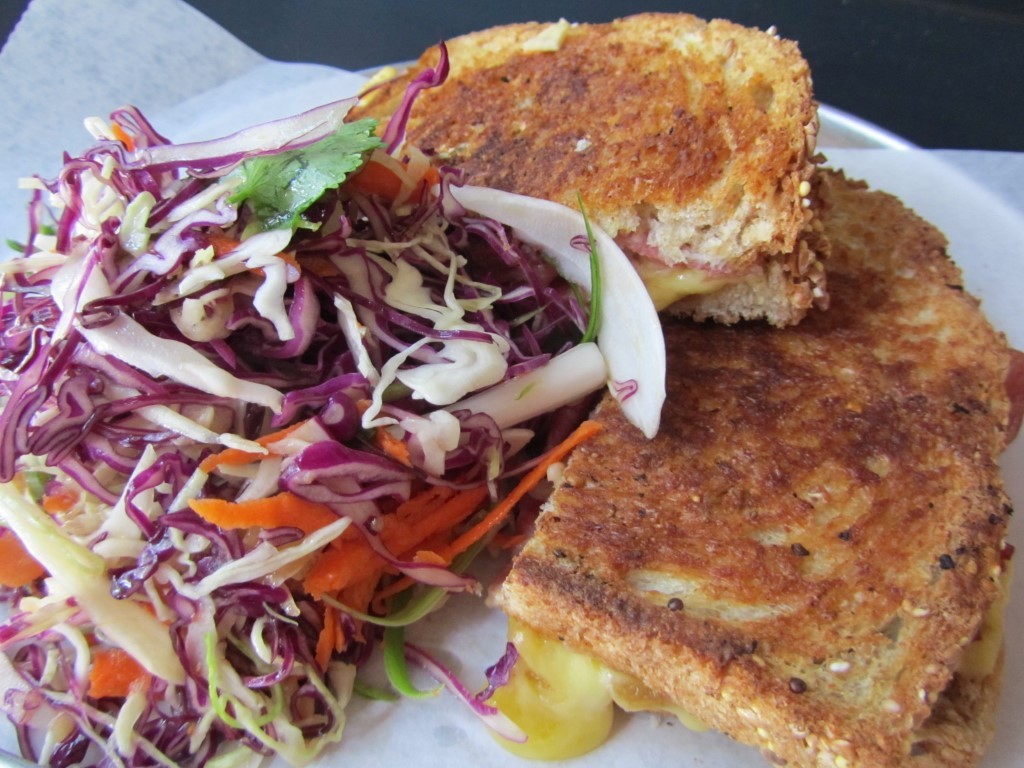 My husband and I visited Revival Market last Friday.  I get their newsletter and am always amazed at the wide selection of pastured pork, grassfed beef, and other meats, but they also have other food treasures.  We were really hungry when we arrived so our first task was to order lunch.  I chose the Farmstead grilled cheese with caramelized onions on Slow Dough harvest sour dough bread plus the optional Revival Market ham.  I chose the ginger lime slaw as my side.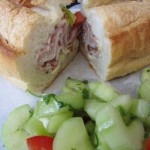 My husband opted for the special of the day–Mangalitsa porchetta with marinated peaches and celery salad.  His side was cucumber salad.  Of course, we shared a taste of each.  My grilled cheese was exactly like I like it–toasted crispy with runny, melty cheese and the ham made it even better.  The slaw, which I've had before, was fresh and crunchy.  My husband's Mangalitsa porchetta was really super–lots of soft, creamy fat layer with tender pork.  I thought the marinated peaches were a nice tart, sweet taste that complimented the porchetta very nicely.  I had the Hibiscus herbal tea and my husband had the regular black tea.
Although lunch was really special, one of the things I like best about Revival Market is the supply of other goodies in the store that you can take home with you.  Many are items that are difficult, if not impossible, to find anywhere else.  We bought some house-made fresh pork sausages–breakfast and bratwurst–a small jar of sorghum syrup, and a loaf of sourdough bread.  I grew up in Tennessee at a time when sorghum was fairly common, but it's harder to find traditional sorghum syrup today.  The staff at Revival Market said that their sorghum was made by hand the old-fashioned way on a small family farm.  I don't use much sweetener but wanted to try this one as a reminder of years ago. I haven't tasted it yet–I will let you know about that later.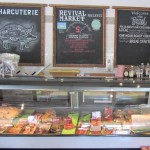 The centerpiece of Revival Market is the meat from Revival Meats in Yoakum, TX.  Revival Meats raises heirloom breeds of pigs (including Mangalitsa, known for its juicy, flavorful meat and high fat content), roseveal, and grassfed and grass-finished Revival beef.  Revival Meats explains its vision this way:  The owners want to reach "back to the past, to restore values and ideals deeply steeped in family tradition, following a model of small-scale, humane, and truly sustainable agriculture."  Other sources of featured meats include Shudde Ranch Natural Grass-fed Beef and Augustus Ranch Meat Co.  More unusual meats are also often available, like antelope, duck, rabbit, and red wattle (featured this week).
If you want to eat healthy, nutrient-dense foods, but don't have enough time to cook or you simply want a break from the effort required to prepare your own, Revival Market has some ready-to-eat, nutritious foods, both house-made and carefully selected from other producers.  Revival Market makes their own chicken stock (slow cooked with lots of bones); traditionally rendered lard; and in-house made ready to eat dishes like grassfed beef meat loaf, roast chicken with okra and cherry tomatoes, grassfed beef pot roast, roasted green beans with house made salami, duck dumplings, and braised beef shank.  Revival Market also stocks fresh local vegetables and fruits; local Houston bakery Slow Dough breads (including sourdough); Way Back When dairy unhomogenized, low-temp pasteurized milk; and refrigerated pie dough made with lard.  This is only a sample of the wonderful foods found in the Market.
Revival Market has always promoted healthy food and responded thoroughly to our restaurant questionnaire about their food preparation methods.  They are listed on the Real Food Restaurants page, and the information about their food is at the bottom of the page.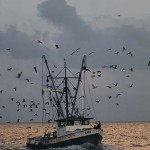 As a by the way, the latest Revival Market newsletter talked about an especially interesting subject–bycatch fish.  Bycatch fish are the unintended fish caught along with whatever the target fish is, for example, for a shrimp fisherman, everything else caught along with the shrimp is bycatch.  According to the Revival Market feature, the ratio of bycatch to shrimp is usually 3:1.  The bycatch fish are usually discarded and wasted.  Revival Market is now working with P. J. Stoops to develop a market for these truly fresh bycatch fish.  This past weekend, P. J. Stoops was at Revival Market to discuss how to prepare these fish, which include Queen Snapper, Almaco Jack, Blue Runner, Blackfin tuna, and Bigeyes.
Shrimp boat photo from Revival Market Newsletter