Omelet with Goat Cheese and Bacon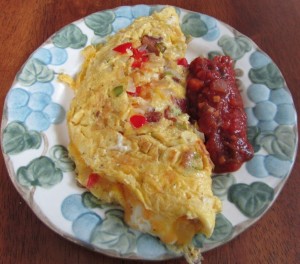 You've probably learned by now that my favorite foods are REAL, healthy, nutritious, and, whenever possible, quick to fix.  Here's another favorite–a two-egg omelet with goat cheese–which I usually eat as a quick lunch or supper since almost every day I have a kefir smoothie for breakfast.
Here's an especially delicious version of omelet with goat cheese and bacon.  This recipe is for a two-egg omelet but it could easily be expanded to a three-egg omelet or even more depending on how many people you're feeding.  Just multiply the amounts as needed.
What you need for each two-egg omelet
2 eggs, preferably from pastured chickens
1 to 2 strips bacon, pre-cooked, cut into pieces
1 heaping tablespoon chopped organic onion
1 heaping tablespoon chopped green and/or red organic pepper
1 tablespoon goat cheese, preferably raw
1 tablespoon grated cheddar cheese, preferably raw
2 teaspoons butter, preferably raw and from grass-fed cows
Sea salt and freshly grated black pepper to taste
Salsa, optional
How to cook the omelet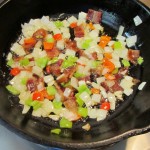 Beat the eggs with salt and pepper just until mixed.  Melt butter in the skillet on medium heat.  Add bacon, onion, and green and/or red pepper and cook for 3 to 4 minutes until onion begins to turn translucent.  Turn down the heat to medium low and add the eggs.  Don't stir but lift up the edges of the eggs as they cook to allow the runny part to flow under the cooked part.  Do this until the remaining egg doesn't flow well.  Allow to continue cooking for a minute or so then top one-half of the omelet with dollops of goat cheese and the cheddar cheese.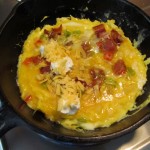 Fold the omelet in half and allow to heat for about a minute or less.
Slip the omelet out onto a plate, add salsa if desired and enjoy.  This is one of the most delicious and quickest foods to prepare.
Notes about the ingredients
You can probably see from the photos that I use an 8″ iron skillet for a two-egg omelet.  A 10″ skillet might work better for a three-egg omelet.  My goat cheese was raw from a local farmer.  The peppers were from my local farmers market, and the eggs were from my favorite backyard egg farmer who has the 'rainbow' eggs.  The bacon was Georgia's, a local producer, from pastured pigs and is naturally cured.  The onion was store-bought organic.  The salsa was store-bought organic medium hot.  If you have homemade salsa, it would be even better.  The only salt I use for cooking and table is Celtic Sea Salt, which I keep in a small glass salt cellar with a tiny spoon.
Variations: If your bacon isn't pre-cooked, you can cook it in the skillet before adding the onion and peppers.  You may not need the butter.  There are many other possible options for this omelet.  You can substitute ham or sausage for the bacon, and use other vegetables, such as spinach or mushrooms, in place of or in addition to the onions and peppers.
This post is shared on Monday Mania 9/24/12, Freaky Friday 9/28/12, and Fill Those Jars Friday 9/28/12..