Additions to Real Food Restaurants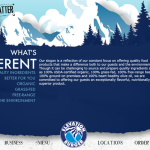 I've added two burger restaurants to the Real Food Restaurants page—Elevation Burger and Burger Guys.  I'm still not sure these belong on a real food restaurants list, so I welcome your comments about your experiences eating at either one or even at other burger restaurants around the area.
At first glance, Elevation Burger seems to be a somewhat better choice.  At least their beef is organic, grassfed, and free-range, and it's ground fresh at the restaurant.  They use olive oil to fry their potatoes, which may be a little better than using cheap vegetable oil, but probably not much.  Olive oil can be safely used for light sauteing but really shouldn't be used for deep-frying at high temperatures.  They say that there is no trans fat in any of their foods and that they buy "fresh, sustainable, and local when practical,"  but they give no information about the ingredients in their sides, condiments, or ice cream for malts and shakes.
Burger Guys also make some statements about their food that imply higher quality.  They say they use only 100% Akaushi beef, but what is Akaushi beef?  Akaushi, a Japanese breed, is promoted by the HeartBrand Beef, a breeder in Yoakum, TX, as being hormone free, high in monounsaturated fat, and a source of CLA (conjugated linoleic acid).  I do really like one claim–the feed is free of genetically engineered ingredients; however, the statement implies the cattle are grain-fed.  HeartBrand provides a nutritional analysis of Akaushi beef but compares it only to conventional, factory farmed meats.  Grassfed beef would be healthier and more nutritious.  Burger Guys' website says their potatoes are fried in duck fat, but a closer look reveals that only the second frying is in duck fat. The fries are "Finished in duck fat." Who knows what kind of fat is used for the first frying, but it is probably a cheaper, more unhealthy vegetable oil.  I got no reply to an email asking them what they use for the first frying.  They say their sauces are house-made and their soft drinks are made with cane sugar.  I do especially like one of their burger add-ons–a fried chicken or duck egg.  That's super!    Being homemade is good if the basic ingredients are healthy, but we just don't know at Burger Guys.  Sugar may be better than HFCS, but it's still highly processed and empty of nutrients.  A review of the new Downtown location says they shop farmers markets for fresh produce (good!) and that they make their own ice cream (could be a better choice, but, again, we don't know the ingredients).
Update November 22, 2012:  At the suggestion of a reader, I've added JerryBuilt Hometown Burgers to the Real Food Restaurants page, with some reservations. There are problems with this restaurant's claims as with the other burger restaurants.  They use Niman Ranch beef and bake their buns in house with dough from Three Brothers Bakery.  The beef from Niman Ranch, a San Francisco based ranch and processor, is grazed for the first 14-18 months, then finished on grain.  JerryBuilt's chicken is from Buddy's Natural Chicken in Gonzales, TX.  Both Niman beef and Buddy's chicken are fed a grain mix that includes soy, which is probably genetically engineered since there's no claim to be organic.  JerryBuilt's first choice for produce is organic and local, but always fresh.  I couldn't find any information about the kind of oil used for cooking, so we can probably assume it's unhealthy, cheap vegetable oil.  While JerryBuilt may be an improvement over standard fast food burgers, they've got a ways to go before the food is really healthy.
Do these restaurants belong on the Real Food Restaurants list?