Nutritional Therapist Workshop – Intense, Exciting, and Productive!
Wow!  We just completed our first three-day workshop weekend for the Nutritional Therapy Association's Nutritional Therapist training program, and I'm exhausted, but it was so exciting to be involved in the program and work with the other students practicing our evaluation and interviewing techniques.  Our teacher, Cathy Eason, was really good–she knew what she was talking about and could explain it in a way we could easily understand.  Cathy discussed the topics and demonstrated the evaluation techniques before we practiced with each other.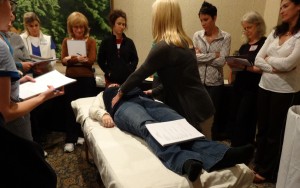 When I signed up for the course, I couldn't understand how we would ever learn what we needed to know in only nine months.  Now I know how–we read a lot, we watch online videos (multiple times as necessary), we have teleconferences, and we work hard during our weekend workshops.   The first few months of the program are just crammed with material.  Some of it, at least for me, was all new (like Anatomy & Physiology).  Although I had already read some of the books, so far, I've found it necessary to reread them to get the information I needed to complete my homework assignments.
There are several Nutritional Therapist training sessions currently in progress around the U.S.–mine has its workshops in Austin, TX.  There are thirty-four students in my session.  All of us share a common goal–to help people be healthier through better nutrition.  I guess that's one of the main reasons we all worked together so well.  There was no holding back; we all just wanted to help each other learn well and move on with the class.  Most of us have recovered or are recovering from nutrition related deficiencies and understand first-hand how important it is to be well nourished for our physical and mental health.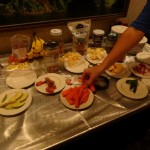 The snacks provided by the teachers were sooo different from standard seminar food.  Yes, there was the hotel's coffee and hot water for tea, which did include a wide variety of herbal teas, but the teachers also brought for us fresh veggies, fruits, cheeses, nuts, seeds, and even some fermented veggies–lots of quality protein, fat, vitamins, and minerals to sustain us and allow us to concentrate during the class. 
I noticed that the container of coffee and tea sweetener packets set out by the hotel was still packed at the end of the day.  It didn't look like anyone had used them.  Way to go!
In case you haven't noticed, the NTA course is why I haven't been posting as much here and on Real Food Houston's Facebook page.  I try to squeeze in as much as I can and get out at least one newsletter a week.  The next one is already a few days late due to the workshop, but it will go out soon.
There will be two more workshops with lots more reading and studying in between, and I'm really looking forward to seeing all my new friends again at the next workshop.
This post is shared on Freaky Friday.