Buckwheat Pancakes – a delicious, earthy, family favorite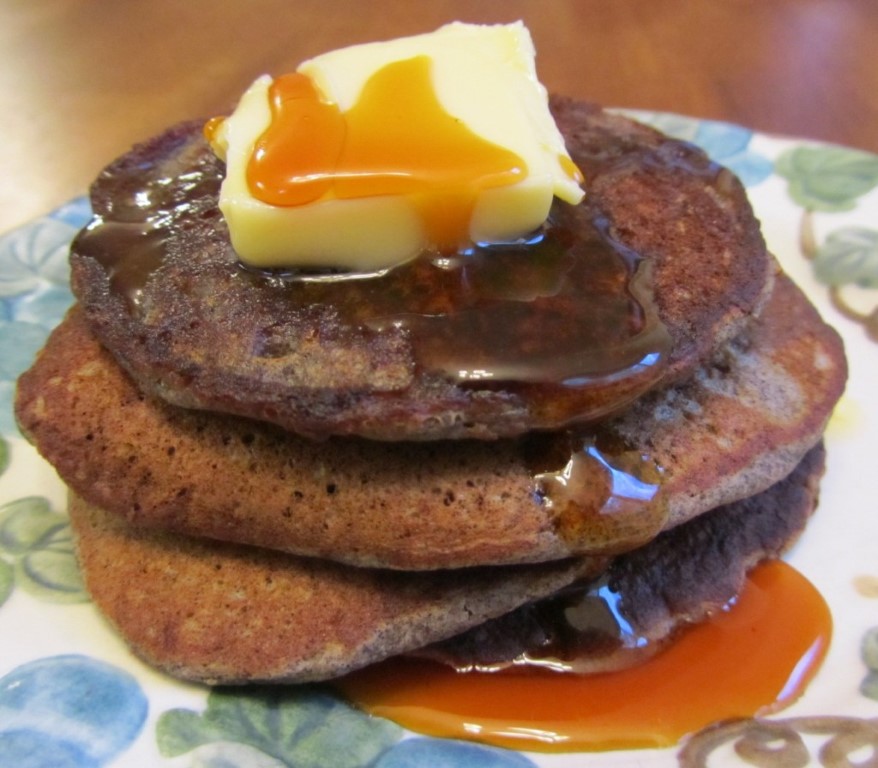 My family loves the earthy flavor of buckwheat pancakes, especially when served with lots of butter and a little real maple syrup.  However, buckwheat doesn't just taste good, it is also very nutritious.
Buckwheat is not wheat.  It's not even a grain but comes from the seeds of a plant related to sorrel and rhubarb.  It was first cultivated in Asia maybe as early as 6000 BC and had spread to Europe by 4000 BC.  Buckwheat contains about 18% protein, and is especially high in lysine, threonine, and tryptophan.  It is also rich in iron, zinc, selenium, B vitamins and antioxidants.  [source]
Another big plus for buckwheat:  it is "especially noted for its high nitriloside, or B17, content, which plays an important role in the body's defense against cancer."  [Nourishing Traditions
, p. 464]
Buckwheat is used in many traditional foods, including soba noodles in Japan, groats (kasha) in western Asia and eastern Europe, and many versions of pancakes – blinis in Russia, galettes in France, and ployes in Acadia.  [source]
Our favorite buckwheat recipe is Buckwheat Pancakes.  Here's how we make them:
Ingredients
2 cups raw milk buttermilk (yoghurt or kefir works too)
2 eggs, lightly beaten, preferably from pastured chickens
1 teaspoon baking powder, aluminum free, [I use Rumford
]
1 teaspoon baking soda  [I use Bob's Red Mill
]
2 tablespoons butter or coconut oil, melted [I use Kerrygold butter or Tropical Traditions coconut oil
]
1 cup buckwheat flour, [I use Bob's Red Mill
]
1 cup whole wheat flour, freshly ground if possible [I use sprouted whole wheat or Einkorn]  (see below for gluten and grain-free version)
1/2 teaspoon sea salt [I use Celtic Sea Salt
]
Preparation
Combine buckwheat flour and whole wheat flour in a large bowl.  Add buttermilk and soak overnight (12 to 24 hours).  Add remaining ingredients and mix with a wire whisk until large lumps disappear.   Thin with a little water if the batter is too thick.  Cook on a lightly oiled (use coconut oil) griddle or skillet over medium-high heat.
We ate these pancakes with Kerrygold butter and organic maple syrup
, but you could top them with raw honey, fresh fruit, or fruit syrup.
This recipe makes about 16 4″ pancakes.  Leftovers, if any, can be frozen and reheated in a toaster or toaster oven.  They're still delicious!
Gluten and grain-free pancakes:  Since my family really likes buckwheat, I've used up to 1-1/2 cups buckwheat flour with 1/2 cup whole wheat flour, and the pancakes are super good. If you are gluten and wheat-free, you could use all buckwheat flour.  I have heard that they are still delicious, but I haven't tried 100% buckwheat yet.
This is a photo of buckwheat from Bob's Red Mill: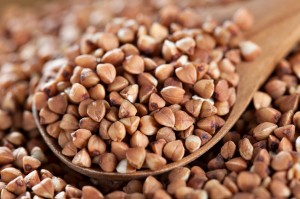 Update July 3, 2013:  Buckwheat – 9 Great Reasons to Know it, Plant it, Grow it and Eat it!  This is a great article that adds many more benefits to eating buckwheat, including it is a clean crop (ancient and not modified), and it is an appetite suppressant).
This post is shared on Fat Tuesday at Real Food Forager.