Houston Will Host a WAPF Regional Wise Traditions Conference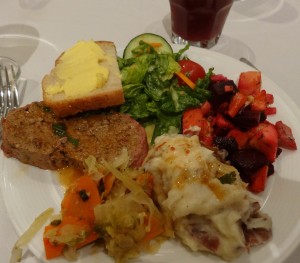 Houston is lucky this year!  The Weston A. Price Foundation (WAPF) has chosen Houston to be the location of one of their two regional conferences for 2014.  The WAPF has one major international conference each year (last one was in Atlanta, November 2013) and two regional conferences.  We don't need to travel far to hear national speakers and learn more about eating traditional foods to promote good health.
The Houston Regional Wise Traditions Conference will be at the Houston Marriott South at Hobby Airport March 29-30, 2014.
Although there is much more to come, here is the information we have now about the program and the speakers.
The two-day, Saturday/Sunday conference will have two tracks, a beginner track and an advanced track.  Saturday's tracks are Getting Started with Traditional Foods and Nutrition and Health. Sunday's tracks are Nutrition for Chronic Disease and Healthy Baby.
This is a great way to introduce your family and friends to a healthy nutrient-dense diet.  There will also be talks that can provide information for those already on a real food diet.
The conference will be a good place to meet people who, like you, are interested in eating right for good health.
National speakers already confirmed are Sally Fallon Morrell, president of the WAPF, who will talk about the research of Weston A. Price and Nourishing Traditional Diets – Part I and II.  Also confirmed are Chris Masterjohn PhD and Kaayla Daniel PhD.  Local speakers include Dawn Ewing ND and Susan Doiron, who has given two superb food demos for our Meetup Group Houston Real Food Nutrition.  More speakers will be announced soon.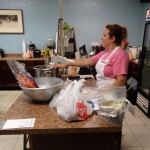 In addition to the Traditional Diets presentation, other topics include a Bone Broth demo, Myths and Truths about Vegetarian Diets, The Vital Fat-Soluble Vitamins, Cod Liver Oil, Our Number One Superfood, and more.
There will be local and national vendors and exhibitors selling nutrient-dense food and healthy products.
On top of all that, there will be two delicious lunches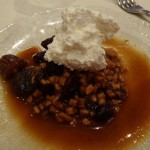 (included) based on WAPF foods.  And don't forget desserts!
I will be there!  I hope to see you!
Food photos are from the 2013 Wise Traditions conference in Atlanta and show some of the delicious meals that you can expect at the Houston conference.