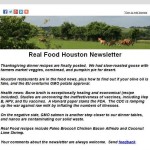 Update February 8, 2015:  I will not be publishing this newsletter for a while due to other areas that need my attention.  I hope to be able to begin collecting food and health news and publishing the newsletter again soon.  I thank my followers who have subscribed and read my newsletter.
---
I spend a lot of time each week researching real food and health news from around the world, mainly because I want to keep up with what's happening, but also because there is still so much I want to learn.  I began the newsletter as a way to share what I learned with others who are also interested in learning about these topics but may not have the time to search the news.
The contents of each newsletter vary somewhat depending on what's in the current world news, but I always include the latest Real Food Houston posts and some previous popular posts.  News articles may be about Houston restaurants or farmers markets, raw milk, food rights, nutrition, and some Real Food recipes.  Health news may include vaccines, water fluoridation, GMOs, pesticides/poisons, statins and heart disease, conventional and alternative health care, and health freedom issues.  I usually have some news about harmful foods or health impacts such as GMOs, fake food, junk food, and pesticides/poisons.  I select articles, stories, and news items that I think provide new and/or updated information about these subjects.
If you're interested in any of these areas, and you don't have time to comb the news yourself, please subscribe to my free newsletter.  There's a quick signup in the right side panel.  You will be asked to verify that you want to subscribe, and, if you ever decide you don't want to get any more newsletters from Real Food Houston, it's easy to unsubscribe (surely you won't).  I usually send out one or two newsletters per month.
I archive older newsletters and link them below.  If you want to get current news, please subscribe (right side panel), but if you're looking for older newsletters, here they are:
January – June 2014December 2013November 2013October 2013September 2013August 2013July 2013June 2013May 2013April 2013March 2013February 2013January 2013December 2012November 2012October 2012 10/27/2012 – Great Way to Start the Day – Persimmon Kefir Smoothie – plus other food and health newsSeptember 2012August 2012July 2012June 2012May 2012April 2012March 2012February 2012January 2012December 2011
November 2011
November 28, 2011
November 17, 2011
November 8, 2011
November 1, 2011
October 2011
October 25, 2011
October 22, 2011
October 15, 2011
October 11, 2011
October 1, 2011
September 2011
September 23, 2011
September 16, 2011