Real Food On a Budget – Coupons Can't Help!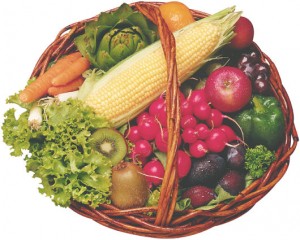 Eating real food can be a problem for your budget.  Because the federal government heavily subsidizes large conventional agriculture, it's hard for small sustainable farmers to compete in price.  Although the good healthy food is worth the price, it can be a hit to the budget.  There are many web sites and newspapers offering coupons that say they can save you money on your food.  But can they save on real food?
My gut feeling was that coupons were mostly for highly processed junk food, but, just to be sure, I used today's Sunday newspaper (Houston Chronicle) coupon inserts to find out.  There were two booklets of coupons, a total of approximately 180 coupons, not counting mail-in offers.   After eliminating the ones for non-food, supplements, pet food, medicines, and restaurants, there were about 65 coupons left.
Well, I was right, we can't save much on real food; only 5% of the 65 food coupons (3) were for real food.  9% of the food coupons were for foods that had at least some nutritious ingredients and fewer bad ones.  But wow! You could really save on the junk.  86% of the food coupons were for low nutrition, junk-type foods you should rarely, if ever, eat.
Here's how I grouped the food coupons.
Mostly good food
canned tuna
natural deli meat (no nitrates or nitrites), but even these have some added sugar
$1.00 off on beef if a jar of pasta sauce is bought
Foods with some nutritional value (none are for organic foods): these I gave the benefit of the doubt since I couldn't actually read the labels.
green and herbal tea
orange juice (it would be better to eat the whole orange)
frozen sausage crumbles (probably includes additives that are not real, but I'm assuming there's some meat in it)
frozen fruits and vegetables; those with sauces should probably be avoided
frozen meatballs (I really hesitated about this one, most commercial meatballs/meatloaves have a lot of additives that we shouldn't eat)
jarred tomato/spaghetti sauce (not so good if served with white flour pasta or if it contains added sugar, which most do)
Junk food
all foods with sugar added (white sugar is highly processed and has no significant nutritional value)
all foods that are highly processed, such as canned soups, frozen entrees, anything with sauces
all foods that have been fried (almost all commercial foods are fried in highly refined/processed oil that is unhealthy)
all foods that include white, refined flour or white rice (these are highly processed and have limited nutritional value)
all foods labeled "low fat," "diet," or "high fiber" (all of these are highly processed to remove some natural part of the food or to add some unnatural ingredient to the food)
all foods that probably contain soy oil, such as commercial salad dressings and mayonnaises
If coupons can't help, how do we save money?  Here are some ways I try to save on my food budget:
Buy in bulk: if you can afford to buy a side or quarter of grassfed beef, you will save a lot on the per pound cost
Buy vegetables and fruits at farmers' markets from local farmers
Eat eggs, the most nutritious are from locally raised, pastured chickens. The per serving (2-3) cost of pastured chicken eggs is very reasonable, even at $4 or $5 a dozen.
Cook soups, stews, chilis, homemade meatloaf
Spend food money on highly nutritious food–grassfed meats, eggs, local organic vegetables and fruits, local unprocessed dairy. I don't spend money on such low nutrition foods as boxed/packaged cold cereals, soft drinks, packaged/bottled juices, and any foods marketed as "snack."
Here are just a few additional suggestions from the Nourishing Traditions cookbook by Sally Fallon:
Don't buy high price per ounce boxed/packaged breakfast cereals; cook your own cereals from whole, soaked grains. The processed cereals are "poor in nutrients and difficult to digest."
Make your own salad dressing with good oils, fresh ingredients, and NO additives. This is cheaper, healthier, and, best of all, tastes better.
Use less expensive vegetables; many are very nourishing. These include potatoes, cabbage, carrots, zucchini, onions, and greens.
Nourishing Traditions is a great cookbook and nutrition resource. It has many more food budget and time saving preparation suggestions, as well as recipes for preparing foods in the most nutritious way.
Update February 17, 2014:  A Phylly.com reporter reviews a study that agrees with this post. "Most Supermarket Coupons Promote Junk Food, Sugary Drinks: Study." This study, published in Preventing Chronic Disease, was much more extensive than mine, but came to the same conclusion.  They looked at more than 1,000 online coupons offered by 6 major food chains and found:
Processed snack foods, such as chips, crackers and desserts, made up the largest slice of the coupon pie (25 percent). Meanwhile, 14 percent of coupons were for frozen dinners and other prepared meals; 12 percent were for beverages (half of which were for sugary juices and drinks); 11 percent were for cereals; 10 percent were for condiments, such as salad dressing and mayonnaise; and 8 percent plied customers with discounts on processed meats, such as hot dogs and bacon.