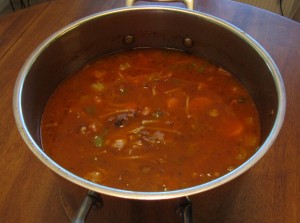 I've been making vegetable beef soup for many years, but after reading Nourishing Traditions and Eat Fat, Lose Fat, both by Sally Fallon and Dr. Mary Enig, I've added an important new step to increase the nutrition and enhance the flavor.  I now soak the bones in vinegar and filtered water before cooking.
Here's how I make it now (my sources are in parentheses):
2-3 pounds meaty beef soup bones (Law Family Ranch)
1 organic onion, chopped
2 quarts filtered water (flouride free)
1 large can whole tomatoes, cut up (Muir Glen)
1/2 cup vinegar (Bragg's raw apple cider vinegar)
1 teaspoon dried organic thyme (Frontier)
1/2 cup red wine (organic grapes)
1 teaspoon salt, or to taste (Celtic Sea Salt)
organic black pepper, to taste
4 cups chopped organic vegetables, such as carrots, celery, potatoes, green pepper, green beans
1/2 cup whole grain organic noodles, broken (Jovial einkorn wheat noodles)
2 cups prepared organic beans (or 1 can organic beans), optional (Westbrae)
Brown soup bones in 400 degree F. oven for 45 – 60 minutes.  Transfer browned soup bones to a large pot, 10 to 12 quart, and be sure to scrape the browning pan to get all the juices.  Add the filtered water and 1/2 cup vinegar to the pot.  Stir briefly and let soak, covered, for 1 hour.
Bring pot to a boil, skimming off any foam, then add the canned tomatoes, red wine, thyme, salt, and pepper.  I usually also add the chopped onion at this point.  Simmer for about 3 hours until tender.
Remove the bones and chop the meat into bite sized pieces.  There should be 2 or more cups of meat.  Add the chopped meat back to the soup along with the chopped vegetables, noodles, and optional beans.  Bring back to boil then simmer for 30 minutes.
Serve the soup in bowls (shown left without toppings) with any, or all, of the following optional toppings:  
minced fresh parsley
shredded cheese
sour cream or drained yoghurt