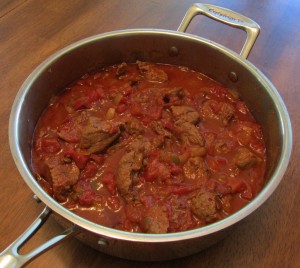 My family really likes this version of beef stew.  It's made with local, tasty grass-fed beef.  It's easy, takes about 15-20 minutes to chop the onion and brown the meat and onion, then an hour of simmering.
Here's the recipe (brands I used are in parentheses):
2 pounds grass-fed beef stew meat (Law Family Ranch)
2 cans organic chilies and tomatoes (Muir Glen)
1 organic onion, chopped
2 tablespoons cooking fat, such as coconut oil, lard, beef tallow (Tropical Traditions Gold Label virgin coconut oil)
1 teaspoon organic chili powder (Frontier)
Melt fat in a large skillet over medium heat, then brown stew meat for 4 to 5 minutes; add chopped onion and cook until onion begins to turn translucent.  Stir in chilies and tomatoes and chili powder with the beef and onion.  Simmer for about one hour.  We like our stew topped with shredded cheddar cheese and raw sour cream or drained yogurt (Brown Cow Cream Top Plain).