Grain-Free Meatloaf – Comfort Food!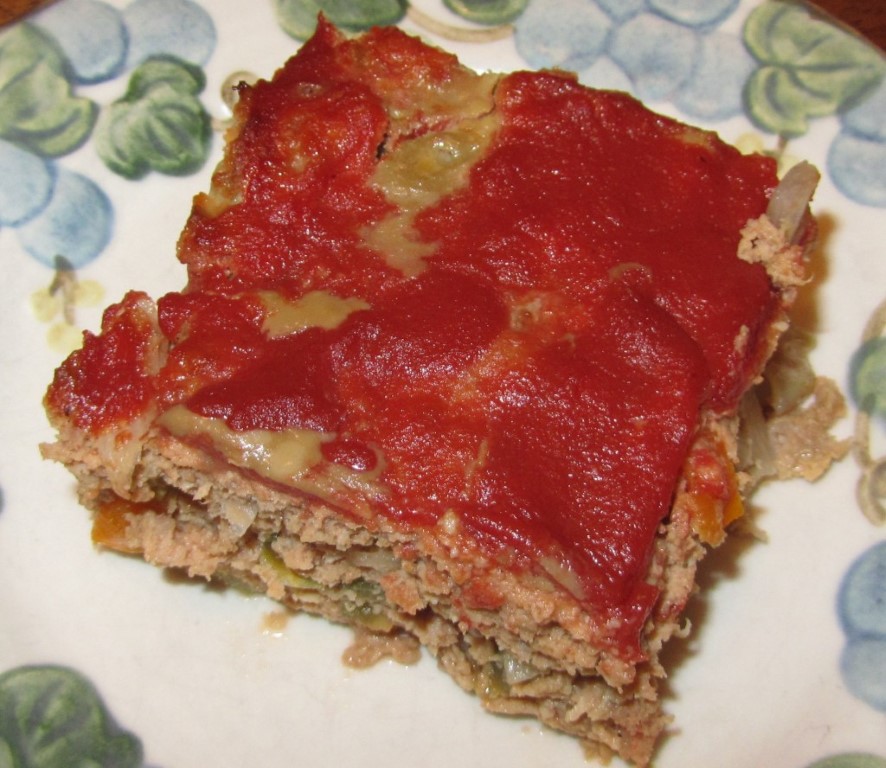 Meatloaf has always been one of my comfort foods.  It can be a meal in one with the vegetables, meat, and sauce on top.  To make the traditional meatloaf with breadcrumbs more nutrient dense and make it safe for those who can't (or don't want to) eat grains, here's a version that uses almond flour or coconut flour instead of breadcrumbs.  Since it tastes just like the traditional meatloaf, my family loves it as much as I do, so I usually make a double recipe.  Here's how I make meatloaf:
1 pound ground beef, local Law Ranch grassfed beef
1/2 cup chopped organic onion
1/2 cup chopped organic red or green pepper (farmers market)
1/2 cup chopped organic celery
1/2 cup almond or coconut flour (either one works well)
1/2 cup grated cheese (I use finely shredded parmigiano reggiano)
1/2 teaspoon salt (Celtic Sea Salt)
1/4 teaspoon freshly grated organic black pepper
1 teaspoon organic prepared mustard
1/2 cup tomato sauce (Muir Glen organic)
2 eggs, from pastured chickens
Heat oven to 350 F.  You can use a loaf pan or an 8 X 8 or 9 X 9 glass dish.  When I double the recipe, I bake the meatloaf in a 9 X 13 pan.
Mix the onion, celery, pepper, almond (or coconut) flour, salt, black  pepper, mustard, shredded cheese, half the tomato sauce, and eggs together.  [Note: I don't usually measure the onion, celery, or pepper.  I just chop and estimate.]
Add the ground beef and mix well.  I usually use a plastic food handler glove and mix with my hand.
Put the mixture in the pan and spread the remaining tomato sauce over the loaf.
Bake for 1 hour and 10 minutes.  Cool slightly (my family usually doesn't want to wait for it to cool, and it works out fine).
The amount of tomato sauce can be doubled if you like your meatloaf tomatoey.