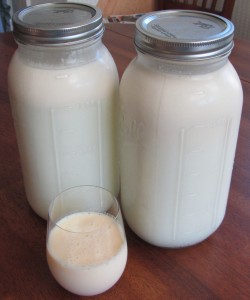 I really like Sally's milk (photo at left is all Sally's milk), but then I also like Trixie's, Juliet's, and Joy's milk too.  What I like most is that each half gallon glass bottle is labeled with the name of the cow that gave the milk.  No, wait a minute–that's not what I like most.  Actually, what I really like most is how good the milk tastes–fresh and creamy.  Of course, it's so good for me and my family too.  It's totally unprocessed, unheated, unhomogenized, and farm-fresh healthy.
Bill & Irene Nelson are the owners of the Healthyway Dairy in Santa Fe, Texas, a small Texas licensed Grade A raw milk dairy farm.  The farm has been in the family for many years.  As is common on most small dairy farms, they know their cows well.  They are reluctant to let anyone else milk them because each cow is different and thrives with the individual handling the Nelsons provide.  Their cows are mostly Jerseys and grassfed.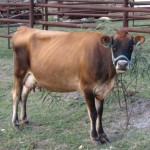 Their dairy farm has lots of milk right now for several reasons.  (No, I don't think that's Sally in the photo at left.) The Nelsons recently acquired a few more milk cows from a neighbor who was no longer able to take care of his cows.  He  was glad that the Nelsons could take them because he knew they would treat the cows well.  Also, several cows at Healthy Way Dairy have recently given birth to new calves which has increased the milk supply.  With the additional cows and the new mothers back into milk production, there's plenty of fresh milk available at the farm.
For more sources of certified raw dairy in the Houston area, go to the website of the Houston-Galveston chapter of The Weston A. Price Foundation.
For more information about natural, raw milk, go to RealMilk.com.
Update September 20, 2014:  Bill and Irene Nelson are good people who care about their cows and helping others be healthier by drinking their raw milk.  Watch a superb documentary about life on their dairy farm here.