Home Sweet Farm in Brenham is having a farm tour and open house Sunday, February 12th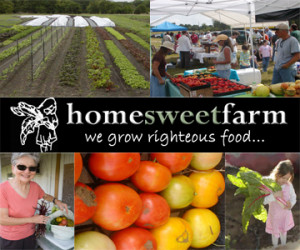 Houston's first and largest Community Supported Agriculture (CSA) program, Home Sweet Farm, will have farm tour and CSA orientation this Sunday, February 12th.  I just learned about the tour and the deadline to sign up was yesterday, but if you're interested, call them today–maybe there's still space.  Each visiting family will take home a share of fresh veggies, including broccoli, green cabbage, carrots, napa cabbage, daikon radish, savoy cabbage, cauliflower, arugula, and other seasonal produce.  The cost per family for the farm tour and veggie share is $30, $15 for current CSA members.  Call 979-251-9922.
The Home Sweet Farm CSA delivers to several Houston drop sites on Tuesdays and Thursdays.  Here's the current schedule.  There are openings still available for the Spring 2012 season.  Visit the CSA web page for more information about getting a share of fresh, local produce.
If you're not familiar with CSAs: members prepay for a season of produce.  Prepayment allows the farm to know how much and what to plant for the season.  Home Sweet Farm delivers 30+ weeks per year, and members commit for a year at $28-31/week, depending on delivery site.
For other local Houston sources of REAL FOOD, go to the Local Food & Milk page on the Weston A. Price Houston-Galveston chapter website.