Bone broth from pastured chicken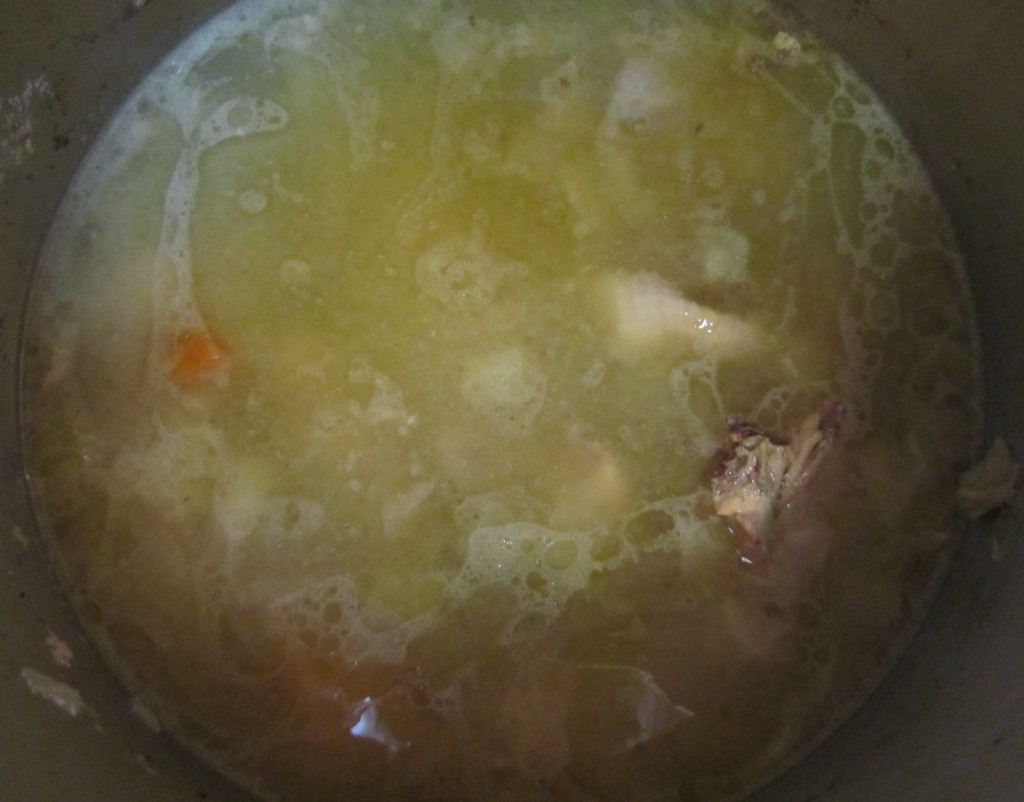 Bone broth must be one of our most nourishing foods.  Just recently my daughter and my husband were having intestinal problems.  A quart or so of homemade broth was all it took to get them back to normal.  I always keep bone broth on hand in the freezer, as well as the pastured chickens for making more broth whenever necessary.  If I'm lucky I can find some chicken feet for the broth.  They really increase the gelling, the flavor, and the nutrition.  Mostly I follow the instructions for chicken stock in Nourishing Traditions by Sally Fallon and Mary Enig.
Here's how I made my chicken stock:
What you need:
one chicken, preferably pastured, organic is next best
2 to 4 chicken feet, if available
1 large onion, chopped
2 carrots, chopped
3 stalks celery, chopped
4 quarts filtered water
2 tablespoons of vinegar (I use raw apple cider vinegar but any will do)
If your chicken has organs included (heart, gizzard, liver), take them out and reserve for another use.  Depending on the time available, sometimes I cut up the chicken and sometimes not.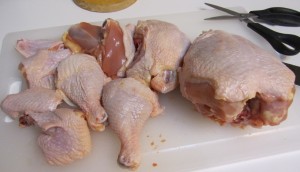 For this batch of broth, I cut off the wings, legs, and thighs.  A sharp knife and Gerber bone shears are useful.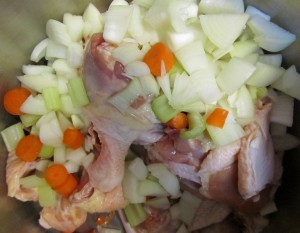 Put the chicken pieces and chopped veggies in a large stockpot, 10 to 12 quart.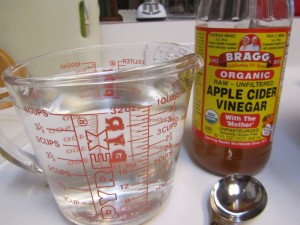 Add the filtered water and vinegar and soak for 30 minutes to an hour.
Bring the stock to a boil, skimming off any foam that rises–look for the colored foam.  Simmer for 6 to 24 hours.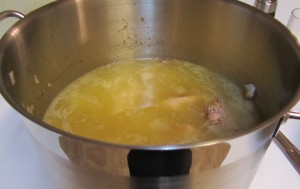 This broth was simmered for about 9 hours.
Nourishing Traditions recommends adding a bunch of parsley to the broth about 10 minutes before you remove from the heat.  I don't always have fresh parsley available when making broth, but do add it if you have some.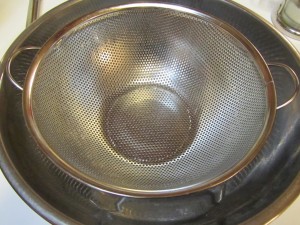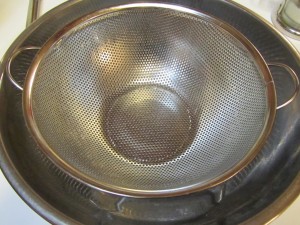 Using a colander and a large bowl, strain the broth from the meat, bones, and veggies.   Separate the meat from the bones and use for chicken salad, chicken soup, casseroles, curries, etc.  The meat of the chicken will be somewhat bland after the long simmering, so plan to use it with other flavorful ingredients.
I pour the strained broth into a clean pot and cool quickly in a sink full of ice water before putting it into the refrigerator.  Freeze any broth you will not use within a week.  Nourishing Traditions recommends removing the fat after it cools in the refrigerator, but I like to keep the fat with the broth.
For maintaining good health, I think it's good to drink one cup of bone broth every day.  When someone is not feeling well, a quart or more per day can help them feel better.  I'm continually amazed at how effective drinking homemade bone broth is in helping people feel better.
You won't get the same nutrition and healing effects of homemade bone broth if you use commercial canned or boxed soups.  Make your own, it's worth the time and trouble.
There are many variations of bone broth.  Here are just a few of the ones I've found and more information about the health benefits:
How to Make Homemade Chicken Stock by Cheeseslave
Beef Bone Broth by Real Food Forager
The Wonders of Gelatin (and How to Get More in Your Stock) by the Healthy Home Economist
5 Reasons Why Your Stock Won't Gel by the Healthy Home Economist
Video: Traditional Stocks and Soups by the Healthy Home Economist
How to Make your own Homemade Chicken Stock/Broth by Kitchen Stewardship
Broth is Beautiful by Sally Fallon
Why Broth is Beautiful: Essential Roles for Proline, Glycine and Gelatin By Kaayla Daniel