What's for dinner? Thyme roasted chicken, green beans, mashed potatoes, and cranberry apple chutney!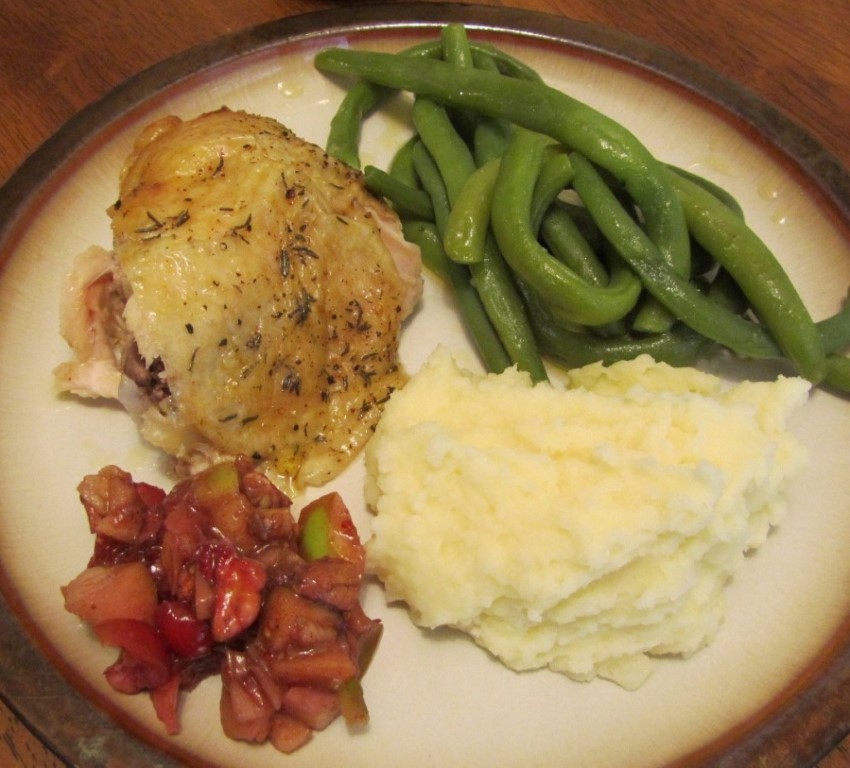 We had a great meal last night for dinner.  Local pastured chicken roasted with thyme, local farmers market green beans, mashed potatoes (unfortunately not local), and cranberry apple chutney.
What you need:
pastured chicken
green beans, ends snapped off
potatoes, cubed
raw cream
butter
sea salt (I used Celtic Sea Salt)
black pepper
dried thyme
Lacto-fermented Cranberry Apple Chutney (from Eat Nourishing)
How to start the meal:
Preheat the oven to 375 degrees F. Wash and pat dry the chicken.  Place the chicken, breast side up, on a rack (optional) in a large baking pan. Brush the chicken with olive oil, sprinkle with freshly ground black pepper, sea salt, and about 1 teaspoon dried thyme.  Turn the chicken over, breast side down, and repeat pepper, salt, and another 1 teaspoon thyme.  Place in the preheated oven for 40 minutes for a 5-pound chicken.  Adjust the time if your chicken is larger or smaller.  After 40 minutes, remove the chicken from the oven and turn over, breast side up. Return the chicken to the oven for about 35 more minutes.  The chicken will be done when the meat and skin on the drumsticks begins to pull away from the bone.
Now for the veggies:
Meanwhile, after turning the chicken, snap the green beans and cube the potatoes.  About 15-20 minutes before the chicken will be done, bring the green beans and potatoes to a boil, then simmer until tender–green beans about 5 to 10 minutes, potatoes, 10-15 minutes.  Test each with a fork for doneness.  When the green beans are tender, drain and add butter and sea salt.  Keep the green beans warm until everything else is ready.  When the potatoes are very soft, drain and mash with enough cream to make the potatoes soft but not runny.  Add about 1-2 tablespoons of butter per potato and salt to taste. By the time the potatoes are mashed and the butter melts, everything else should be ready to eat.
Don't forget the Lacto-fermented Cranberry Apple Chutney from Eat Nourishing.  I made the chutney about a week ahead.  It adds just the right sweet, tart taste plus lots of probiotics.
That's all it takes, simple, nutritious, and delicious!  My kind of meal.
Variation for chicken pieces rather than a whole chicken:  Prepare the pieces the same way as for a whole chicken (I don't use a rack for pieces), then bake for about 60 minutes at 375 degrees F.  Begin preparing the veggies about 30 minutes before the chicken will be done.
As always, buy the veggies local, unpoisoned, and fresh and the chicken pastured, whenever possible.