Tabella's–a new farm-to-table restaurant in Kemah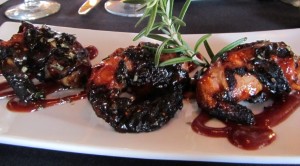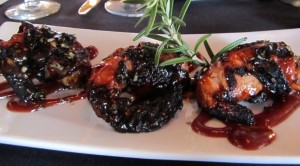 We celebrated Fathers' Day at Tabella's, a new farm-to-table restaurant in Kemah, TX. The Chef Link Livingston and Sous Chef Chris are providing delicious, locally sourced food prepared exactly the way I like it—simple, delicious, local, and healthy. The seafood is fresh from the Gulf and the chef shops at local farmers markets and other local sources for produce–it's very fresh and often organic.  Using local, fresh produce does lead to seasonal changes in the menu.
We began our dinner with the Shrimp Diablo appetizer, tender, juicy fire-roasted Gulf shrimp wrapped in maple bacon with bell peppers, jalapeno cheese, and a tart-sweet glaze. We all loved the shrimp—just the right combination of jalapeno, sauce, bacon and shrimp. The freshly made herbed bread was served with seasoned olive oil for dipping.
For entrees, my husband and son had the special 12 ounce ribeye steak (cooked exactly to order) My daughter and her friend had roast chicken with the vegetable medley plus a side of new potatoes. I chose the fish of the day—fresh snapper from the Gulf—cooked just right, still tender and delicate. All entrees were served with roasted corn-on-the-cob and a fresh vegetable medley of tomatoes, peppers, squash, and onions.  My husband added asparagus as an extra side.
Since this was a special occasion we also had dessert—Bananas Foster, a perfect ending, a sweet and tasty combination of sautéed bananas, cinnamon, dark rum, and vanilla ice cream. We shared the desserts, of course.
We ate and enjoyed every bite of our dinner. I would certainly recommend Tabella's to anyone wanting delicious, locally sourced, and very fresh food.
Tabella's opened in January 2012 as an addition to the Clear Creek Winery and Clipper House Inn Bed & Breakfast.
Sources:
A very good review of Tabella's in the April 2012 issue of Change magazine.
Tabella's on Facebook
Update July 16, 2012: New information in the July issue of Change magazine about Tabella's at Clear Creek Winery.
Location:
Tabella's at Clear Creek Winery
709 Harris Ave.
Kemah, TX
Reservations: 281-957-9090