What's for dinner? Grassfed beef ribeye, green beans, and baked potato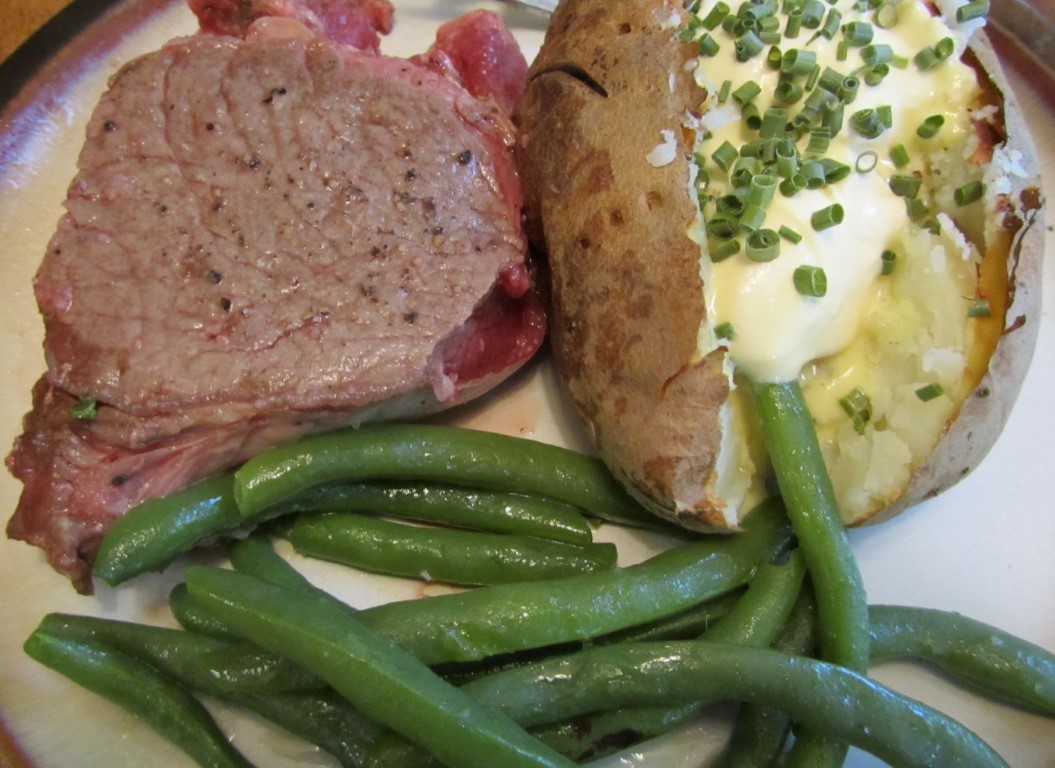 There's nothing better than grassfed beef, and this one is extra special–ribeye steak, cooked rare to preserve more nutrients.  We ate this beef with local farmers market green beans and organic baked potatoes (not local though).
What you need:
Beef ribeye steaks, preferably grassfed
Green beans
Potatoes
Butter
Sea salt (I use Celtic Sea Salt)
Organic black pepper
Potato toppings (any or all):
Sour cream, preferably raw
Butter
Chives, organic
Sea Salt
Black pepper
Grated cheese (we didn't use cheese this time, but we often do)
Preparation:
Spread the steaks with room temperature butter and sprinkle with sea salt (Celtic Sea Salt) and freshly ground organic black pepper.  The steaks can be broiled in the oven or grilled over charcoal or gas outside.  Turn after a few minutes on the first side and spread with more butter, add salt and pepper.  We don't cook steaks very long because we like ours rare–for the taste and to preserve the nutrients that over cooking destroys.  These steaks were large, so we cut them into serving size pieces for eating.
For the green beans: wash and snap off ends.  Add about a half cup of filtered water to the pot with the green beans, bring to a boil, then turn down to simmer for about 5 minutes or until tender (test with a fork).  Drain and season with butter and sea salt.
Potatoes: scrub well and prick with a fork.  Bake at 400 degrees Fahrenheit for about one hour until done.  Test by squeezing gently with a paper towel using an oven glove.  Split open and serve with any or all of your favorite toppings, such as raw sour cream, butter, organic chives, salt, pepper, grated cheese.
Eat and enjoy!  Another super simple, super easy, and super delicious meal!