Fluoride Free Houston! Let's make our drinking water safe!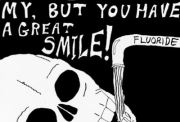 "Over $1 million a year goes to forcing medication upon the population of the City of Houston through tap water Fluoridation. This is an effort to end the use of Fluoride"
Do I have good news!  A group of courageous, interested Houstonians want to help all of us to be healthier.  [See their purpose above.]  They have decided to do something, not just talk, about improving the safety of our drinking water, and, oh by the way, save our city lots of money.  Brianna Moore, Cody Adams, and Derrick Broze have formed Fluoride Free Houston to stop fluoridation of Houston's water supply.  They began having meetings in June 2012. Their next meeting is August 6th (see below for details).  They already have 15 to 20 people attending their meetings, and, with your help, maybe we can get more people involved.  Let's support the effort by liking their Facebook page, http://www.facebook.com/FluorideFreeHouston.  The group's website: http://www.fluoridefreehouston.org/
From Brianna Moore, here are the three approaches they plan to use to reach the goal of freeing Houston water from fluoridation.
1) Fluoridation is forced medication:  Fluoride is the only substance that is provided to an entire populace without knowing if everyone needs it. This takes away our right to choose our own medical needs
2) Health issues: Although fluoride was once thought to be beneficial to teeth, upon a closer look, it has been found that fluoride is only beneficial when applied topically, NOT ingested. In fact, on many toothpaste tubes it says that if you swallow the toothpaste (containing fluoride) you should immediately call poison control.
3) Also, the money factor: The city of Houston will spend over 5 million dollars in the next five years to add hydrofluorosilic acid to the water supply, I think that we could find MUCH better ways to spend our residents' money.
Fluoride Free Houston's next meeting:
Date:  August 6th
Time:  7:30 pm
Location:  The Real School aka Dragon Valley
2805 Wichita
Houston, TX 77054
On August 7th the group plans to present their resolution to the Houston City Council.
For more information about the health problems associated with fluoridation of municipal water supplies, see my previous post: How Much Fluoride is Too Much Fluoride: Who Really Benefits?
Update July 18, 2014:  A member of Fluoride Free Houston has posted an update on the status of municipal water in the U.S.  He says that Texas has many active groups campaigning to remove fluoride from the water system.