Way Back When Dairy is being forced out of the Houston market!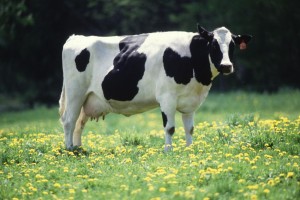 Update, December 11, 2013: DFA joins $158.6M milk price fixing settlement "Dairy Farmers of America Inc. and related companies have agreed to pay $158.6 million to settle claims that they fixed the price of milk.
If approved, the settlement would end an antitrust lawsuit filed in 2007 against the Kansas City-based cooperative by Southeast dairy farmers. A trial in the case was set to begin Tuesday in federal court in Tennessee."
I just learned some devastating news for Houston Real Foodists! The HoustonPress is reporting that Way Back When Dairy has been told by the Dairy Farmers of America (DFA) that it must "market 100 percent of their milk production through the Cooperative, with the exception of milk for home consumption."  It looks like Way Back When will be forced to stop selling their milk to retailers and customers in the Houston area.  Let's look at what's behind this dilemma:
Just what is the DFA?
The Dairy Farmers of America is a cooperative, but it is not your local dairy farmers getting together and selling their milk.  The DFA is BIG DAIRY all the way.  The DFA includes almost 15,000 members in 48 states and has more than 4,000 employees.  It buys the raw milk from its members and sells the milk and milk products to wholesalers. DFA's 2010 net sales were $9.8 billion, and it controls about 33% percent of the raw milk production in the US (and the percentage may be understated).  Their control is "achieved by coercion … denial of other market opportunities." It's important to mention here that the DFA's control of raw milk is much higher than 33% in some areas, such as the Southeastern US, where it controls almost all of the milk.  Among better known DFA brands are Borden® Cheese, Cache Valley® Cheese, Keller's® Creamery Butter, Plugrá® Butter, Breakstone's® Butter, Kemps® and Guida's Dairy.
Alliance between Dean Foods and the Dairy Farmers of America
To make matters even worse for dairy farmers, Dean Foods, a milk processor, and the DFA are allied in a complex system of marketing processes and anti-competitive agreements that ensure high profits for themselves and almost ruinous conditions to the dairy farmers. "Dean Foods controls about 35% of all fluid milk processed in the U.S." In some parts of the country the control is as high as 80% to 90%.  Dean brands include Horizon®, Land O'Lakes®, Silk®, Oak Farms®, Alta Dena®, Meadow Gold®, Pet®, Hygeia®, as well as Dean's®.
"Thus, in tandem, the nation's biggest fluid milk processor [Dean Foods] now receives its raw milk supply from a subsidiary of the nation's largest milk co-op [DFA]—trapping thousands of dairy farmers in DFA's precarious financial system. And DFA owns half-interest in NDH [National Dairy Holdings]—currently the nation's second largest fluid processor. Serious questions arise about DFA's independence, relative to the interests of the processors it supplies with milk … and in the case of NDH, half-owns."
The DFA's ultimatum
I like the way the HoustonPress article characterizes the DFA ultimatum:
Why does DFA want so badly to make sure that dairy farmers sell all of their production to them? By making sure the farmers have no other customers, the DFA has the freedom to set prices to whatever they see fit, in this case, $1.62 a gallon. [Emphasis mine]
Way Back When Dairy, located in Jacksonville, TX, has been selling farm-fresh low temperature pasteurized, unhomogenized milk to many local Houston restaurants, coffee shops, and markets. Here are just a few of them: Revival Market, Underbelly, Greenway Coffee & Tea, Fat Cat Creamery, Southside Espresso, Pearland Coffee Roasters, and Sycamore Grounds.  Low-temp pasteurized, unhomogenized milk is the absolute best milk Texans can buy in retail stores, and it is far better than the conventional, highly processed milk and milk products normally bought in stores.  Way Back When Dairy also sells certified raw milk to Houston customers who want fresh, completely unprocessed milk [the best way to drink milk].  Their raw milk price is the best in town at $5.00 a a gallon. (That price tells the story–the DFA only offers its members $1.62 a gallon.) Now it looks like all, not just part, of Way Back When Dairy milk will be turned into highly processed, nutrient-damaged milk and milk products.  What a shame!
According to HoustonPress the only way Way Back When Dairy can continue to supply the Houston market is to find a new customer, or customers, that can buy 2,500 gallons of milk per week. Due to the almost complete control the DFA has over the raw milk market, it is probably difficult for Way Back When to find another buyer for its milk. You can contact/like the dairy on their Facebook page and you can follow them on Twitter.  You can also spread the word about this through your Facebook pages, Twitter, and any other social media you use.
Footnote about legal action against the DFA
"A group of Northeast dairy farmers has filed a lawsuit against Kansas City-based Dairy Farmers of America and Dallas-based Dean Foods Co., charging they fixed prices and monopolized the fluid milk distribution market. , , ,The dairy farmers charge that DFA, the nation's largest cooperative, and Dean, the nation's largest processor, have lowered the price the farmers receive for fluid milk by making DFA and its affiliates the exclusive suppliers of milk to Dean and Hood. The two processors bottle about 90 percent of the fluid milk in the Northeast, which encompasses 11 states and the District of Columbia." [emphasis mine]   The farmers have been forced to join the organizations to get access to bottling plants. Apparently, there has been no relief to date for the farmers, since the DFA is still issuing ultimatums to its members.
Sources
HoustonPress,Sorry, Houston, No Farm-Fresh Milk for You
Wikipedia, Dairy Farmers of America
NPR, Independent Farmers Feel Squeezed By Milk Cartel
Dairy farmers sue DFA/Dean Foods
Peter L. Hardin, editor/publisher of The Milkweed, Dairy Farmers of America & Dean Foods (#1 U.S. Farm Milk Marketer + @1 U.S. Milk Processor) Dairy's Anti-competitive Duo
This post is shared on Monday Mania 9/10/2012, Real Food Wednesday 9/12/2012, and Freaky Friday 9/14/12.