Mill-King Market & Creamery to supply healthy milk to Houston (and can't be forced out)!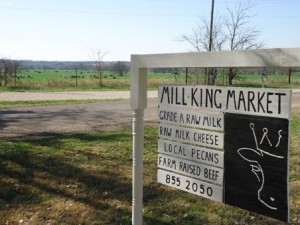 Update 9/27/12: Mill-King started delivery to Houston today and is supplying Revival Market, Trentino Gelato, and several coffee shops, including Antidote, Black Hole, Double Trouble, and Catalina.
Revival Market announced last week that they had found a dairy to provide low-temperature pasteurized, unhomogenized milk for sale in their store.  Who is this dairy?  It's Mill-King Market & Creamery from McGregor, TX, located just outside Waco. The dairy will also supply milk and cream to Trentino Gelato, whose website claims to make the "best handmade artisan gelato and sorbet in Houston, Texas that wholesales to the food service and retail market."  Mill-King is negotiating with other businesses in the Houston area and expects to announce agreements with them soon.
Rethinking Anything Conference ice cream making demo
By an interesting coincidence, I met Craig Miller of Mill-King Labor Day weekend at the Rethinking Everything Conference in the Dallas area.  His dairy provided the milk and cream for Kimberly Hartke's ice cream making demonstration.  In addition to providing supplies for the ice cream demo, Craig brought samples of their cheese varieties for us to try, and they were all delicious! They had a rich flavor and a pleasant texture.   Since they gave away the extra cheese samples, I was lucky enough to get a package of Mill-King cheddar cheese to take home.  From first-hand experience, I can certainly recommend their cheeses.  The ice cream made with their milk and cream was also super good!
About Mill-King dairy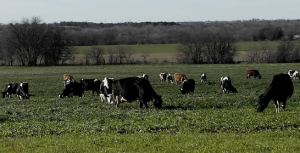 Craig Miller, a third generation dairyman, his wife Rhianna, and family operate Mill-King and produce low-temp pasteurized, unhomogenized milk, cream, cheese, and other dairy products.  This milk is truly healthy because the cows are primarily grass-fed, never given hormones or antibiotics, and there are no GMOs in their supplemental feed.  Their dairy herd is made up of Jerseys, Brown Swiss, and Holstein cows.  Not only is the cheese tasty, it is hand-made, artisanal and all natural.  In fact, Mill-King is so serious about their cheese-making that they have a consultant on-call 24/7 if they experience any problems.  That's dedication to quality!  At first Mill-King will be marketing only milk, cream, and cheese in Houston, but, In the future, they hope to expand their offerings to include products such as butter and yogurt.
Low-temp pasteurized vs. raw milk
Now, I'm sure most of you already know that I drink raw milk every day, but, in Texas, the kind of milk that will be sold in Houston by Mill-King–low-temperature pasteurized and unhomogenized from healthy, grass-fed cows–is the very best milk that is legal to sell in retail stores and be used by restaurants and coffee shops.  We need to encourage our restaurants and retail stores to use this kind of milk.  Mill-King is a licensed raw milk dairy, but, due to Texas restrictions on delivery of raw milk, they won't be selling any raw milk in Houston.  We hope that those regulations will be changed in the future for the convenience of both raw milk producers and consumers.  Rhianna Miller knows the value of this healthy milk, as many of you probably do also.  She gets bad headaches and migraines when she drinks conventionally processed milk, but has no problem with raw milk or low-temp pasteurized.
The name of the dairy
Just in case you're wondering (I did) the name of the dairy, Mill-King, is a play on words for milking–not too hard to figure out.  The family did talk about changing the name but finally decided to keep it.  I'm glad they did–I like Mill-King and probably remember it better because of the word play.  It can't hurt!
Contrast with Way Back When Dairy
Way Back When Dairy, the former supplier of low-temp pasteurized milk to Revival Market, announced last week that they were being forced out of the Houston market by the Dairy Farmers of America.  According to Craig Miller, Mill-King cannot be forced out of the Houston market because their contract allows them to sell as much milk as they want to other markets, although there is a fee for doing so.  Such is the heavily controlled market for milk producers!
Contact Mill-King
If you have any questions about their products, Mill-King welcomes you to check out their website, hook up on Facebook, or send them an email.
This post is linked on Real Food Wednesday 9/19/2012 and Freaky Friday 9/21/2012.