Partners in Paleo – a new restaurant in the Houston area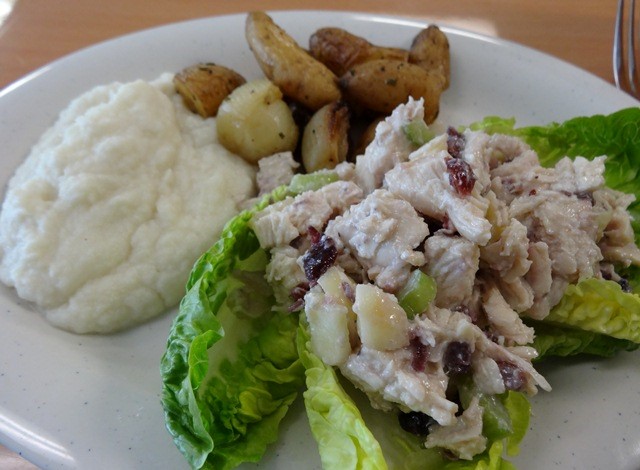 My husband and I just visited a new (only open two weeks) restaurant for lunch yesterday.  The food was very tasty (I ate every bite of my lunch and sampled my husband's potatoes too), and, best of all we didn't even need to count it as our "junk meal" of the week (that's what we usually call our once a week eat out meal).  Wow!  Partners in Paleo is in League City just south of Houston.  For now, it's only open 11 to 3 Tuesday through Saturday.  We had a delicious chicken salad seasoned perfectly with dried cranberries, nuts, apple, and homemade mayonnaise and served on fresh, crisp lettuce leaves.  My sides were creamed cauliflower and deviled eggs.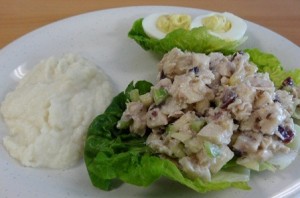 My husband also had the creamed cauliflower but added fingerling potatoes as his second side.  Although we both enjoyed the chicken salad, we would have liked to try other dishes.  Unfortunately we arrived just after two CrossFit groups had eaten up all the roast beef and brussels sprouts with bacon.  In fact, according to their Facebook page, they sold out of food later on Saturday.
The owner/cook is Jeanette Pearson and her goal is to provide healthy food for her friends and neighbors.  She became interested in a healthy diet through her connection with CrossFit.  Her CrossFit friends emphasize nutrition, and last year she heard a talk about the Weston A. Price Foundation, all of which came together at just the right time.  She wanted to find a job that didn't require so much traveling, and she loved to cook.  When a friend talked about wanting to eat a more healthy diet but just didn't have time to cook (sound familiar?), she decided to put her cooking skills to work.
At first, Jeanette was a personal chef and cooked meals for people in their own kitchens.  When she realized she was ready to expand her cooking horizons, she started to look for a commercial kitchen where she could be licensed to cook and sell food.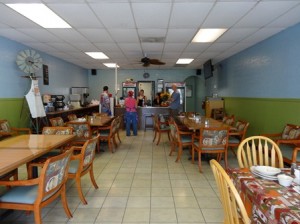 At about that time, a local coffee shop was ready to sell out.  The location looked good, so she took the plunge.  Jeanette is a very good cook.  She serves organic produce (and is looking for better sources), pasture raised meats and eggs, uses no wheat, dairy or sugar (some maple syrup), and just a little rice flour.  She is having some trouble getting enough organic produce and told us that last week she wiped out the organic cauliflower at the local Kroger.  The menu changes daily depending on what is fresh and local.
I certainly hope this new paleo restaurant stays in business–we plan to help.  It's close to our home, and the food is really, really good and healthy too! For now, we've found our new favorite place for Saturday lunch (if we get there early!).
Jeanette already sells some prepared foods frozen to take home and reheat and says she's interested in making other healthy foods, like bone broth for example, for take home use.  We'll be looking for more options from Partners in Paleo as the business grows.
Location:  109B Meadow Parkway, League City, TX  77573
Phone: 281-538-8400, 281-757-0638
Partners in Paleo on Facebook
Email: partnersinpaleo@yahoo.com