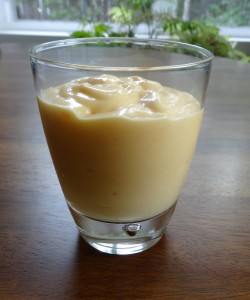 Persimmons are in season here in Texas, and, can you believe it, I had never tried one before!  One of my favorite backyard farmers at my local farmers market had some beautiful bright red-orange persimmons and encouraged me to take a few.
They had two different varieties, a smaller flatter one and a larger rounder one (I don't know the names).  I was told that the smaller flatter one is ripe when the color is bright but not to wait for it to get soft.  The larger ones should be almost mushy to be really ripe and sweet.  I ate half of a round one by just slicing it in half then scooping out the flesh with a spoon.  The flatter ones should be peeled and eaten out of hand.  Please do this over a counter, table, or paper towel.  Fresh ripe persimmons are VERY juicy.  I loved both types.  I'm glad I've discovered a new, local fruit.
Although persimmons are very good eaten fresh, I thought I would try them in my morning smoothie and guess what, they work great and are delicious!  I used one of the very ripe round ones for my smoothie.  Here's how I made it . . .
Ingredients
1 very ripe persimmon
1/2 to 1 cup kefir (mine's homemade from local raw milk)
1 or 2 egg yolks (mine are from local backyard chickens)
1 tablespoon coconut oil (I use Tropical Traditions Gold Label)
Stevia to taste
How to make the smoothie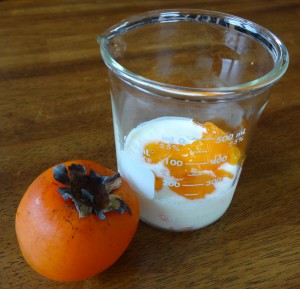 Pour the kefir into a beaker (I use a heavy-duty borosilicate glass beaker); cut the persimmon in half and scoop out the flesh, add the coconut oil and stevia.  Blend with a hand blender until well mixed.  Add the egg yolks and blend briefly. This could be made in a regular blender as well.  I don't melt my coconut oil.  I find that it blends very well without the extra step.
Pour into a glass to serve (or just drink from the beaker as I often do).  Persimmons make a very thick smoothie, much like a mango smoothie.  In fact, it may require a spoon. The persimmon smoothie looks like the mango smoothie, but they don't taste the same.
OOOOM GOOD!  Nutrient-dense and healthy too!
If you like smoothies, you might also want to check out these other smoothie recipes:
Mango Coconut Kefir Smoothie
Morning Smoothie–oooom Good! (Cocoa banana kefir smoothie)
This recipe is shared on Freaky Friday 10/26/2012, Fill Those Jars Friday: October 26, 2012, Monday Mania 10/29/2012 and Fat Tuesday, October 30, 2012.