Blueberry Muffins – Grain Free
One of the projects for my Nutritional Therapy Practitioner course was to make a real food recipe that I had never made before.  I had not experimented much with grain-free baked foods so I chose to make a blueberry muffin recipe made with coconut flour.  Many people are on gluten-free diets and are unable to eat foods made with wheat or other grains.  Having an occasional alternative is important to staying free of gluten.  I chose blueberry because I have always loved them, especially right out of the oven with lots of butter.  I wanted to find out if coconut flour blueberry muffins would taste as good as wheat flour muffins.
They did taste like I thought blueberry muffins should taste!  They were delicious (especially with the extra butter)–warm, soft, and melt-in-your mouth good.  Although I could tell there was coconut fiber in the muffins, that didn't take anything away from the mouth feel, and there was no coconut taste.  They also looked nice–exactly like blueberry muffins should look.  I've always believed that food should look good as well as taste good. Appearance does matter!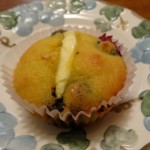 Next time I want blueberry muffins, I will use this recipe–it's great–although I would probably use less honey next time.  Since we no longer eat much sweetener, I found this recipe just a bit too sweet.   I'd gotten my blueberries at my local farmers market earlier in the year and frozen them to use later.   I didn't thaw them, and they worked beautifully, as you can see.
Here's how I made my blueberry muffins:
Ingredients
3 eggs,
3 tablespoons butter, melted
3 tablespoons honey
¼ teaspoon salt
½ teaspoon vanilla
¼ cup coconut flour
½ cup blueberries
Preparation:
Blend together eggs, butter, honey, salt, and vanilla.  Mix coconut flour into batter until there are no lumps.  Fold blueberries into batter.  Pour batter into baking cups.  Bake at 400 degrees for 16-18 minutes.  Makes 6 muffins.
As they should, these muffins smell super good while baking!
As always, I use the freshest and healthiest ingredients I can find.  My eggs are from a local backyard farmer.  The butter is Kerrygold from grassfed cows.  The honey was unprocessed, though not local.  The only salt I use is Celtic Sea Salt.  The vanilla, coconut flour, and blueberries were organic.
Note:  Yes, that's the way I've always put butter in my hot blueberry muffin!  It's easier to slice it that way.
This recipe is shared on Monday Mania.