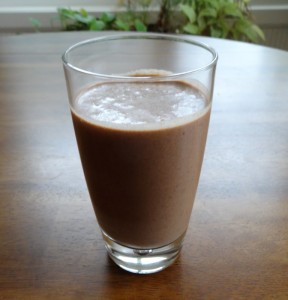 It's been almost a year since I wrote about my morning smoothies.  I still have one most mornings but thought it was about time I updated my post with some changes I've made in the recipe.  The base of my smoothie is almost always kefir, fermented raw milk, but occasionally I use raw milk or a combination of raw milk and raw cream.  Now my kefir is homemade from local raw cow milk.  My favorite breakfast is satisfying, delicious, and nutritious–full of vitamins, minerals, enzymes, probiotics, protein, and healthy fats.   Yes, I just feel better when I start my day with a kefir smoothie.  The one I make most often is a banana cocoa smoothie made with kefir, raw cocoa powder, and banana.  Here's how I make it now (I just had the one in the photo this morning–ooom good!):
1 cup raw cow milk kefir
1 small ripe organic banana (or half of a large one)
1 tablespoon raw organic cocoa powder
1 to 2 tablespoons organic flax seeds (optional)
1 tablespoon coconut oil
1 egg or 2 egg yolks, from pastured chickens
Stevia to taste
Measure kefir into a beaker [I still prefer my heavy-duty borosilicate glass beaker to the plastic beaker that came with my hand blender.] Add–in any order–banana, flaxseed, coconut oil, cocoa powder, and stevia.  Blend until well combined and the flax seeds are broken up.  [The flax seeds are optional, if seed pieces in your smoothie bother you, just omit the flax seeds. I love the chewy bits of seed in my smoothies, but not everyone likes to chew on their smoothie.]  Add the egg or egg yolks at the very end and blend briefly–1 to 2 seconds.
The smoothie could be made in a regular blender, but I find it's easier to clean up the hand blender and beaker.  Often I just sip my smoothie out of the beaker–saves one more cleanup.  Digestion tip: sip the smoothie slowly and let each sip roll around in the mouth to allow the digestive juices to do their job.
Variations:
There are many variations for smoothies.  I've also posted recipes for mango and persimmon smoothies and here's my original morning smoothie recipe
Sources:
kefir: Houston area raw milk, raw milk in other areas.at RealMilk.com
raw cocoa powder: Sunfood, Wilderness Family Naturals, Navitas
coconut oil: Tropical Traditions Gold Label
flaxseed: Bob's Red Mill Organic
stevia: SweetLeaf
pastured eggs: my favorite local farmer's rainbow eggs–beautiful!
This post is shared on Freaky Friday, Monday Mania, Fat Tuesday and Real Food Wednesay.