Grass-fed Beef Tostadas with Guacamole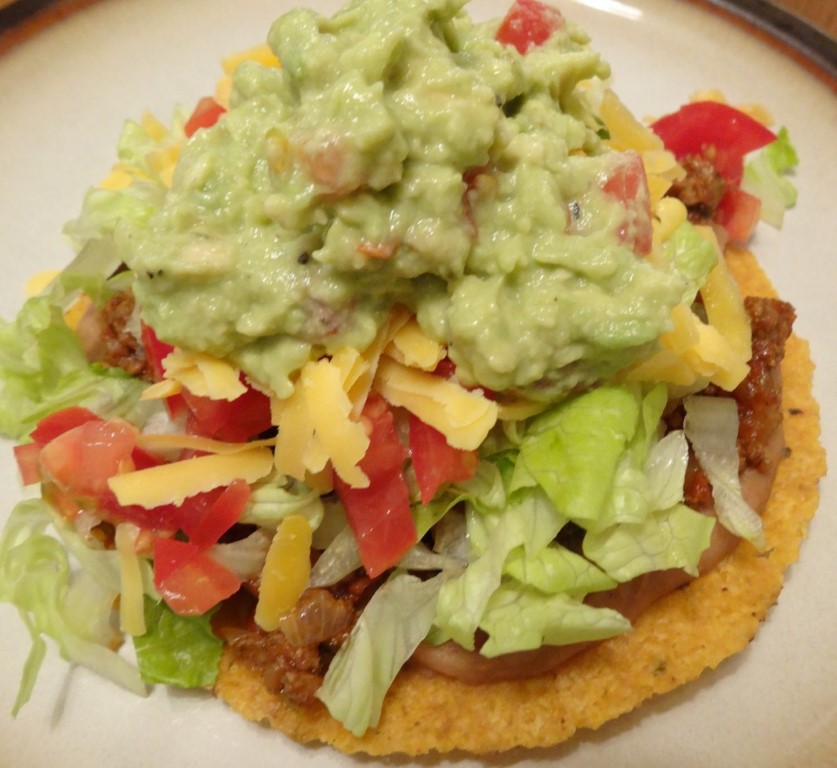 We celebrated New Year's Eve with a special treat this year.  I fell in love with Mexican food when I moved to Texas many years ago, and although there are lots of Mexican restaurants here in Houston–in fact sometimes it seems there is one on almost every corner–almost none of them use good quality ingredients.  Most use unhealthy fats, possibly GMO corn tortillas, CAFO beef, and some even fake cheese.  I wanted our Mexican food to be not only delicious but good for us too.  I had some duck fat leftover from Christmas dinner, and duck fat is super good (and healthy) for frying foods.  I also happened to have some sprouted corn tortillas in the freezer.  They can be hard to find so I grab them when I can.
Here's how I made my grass-fed beef tostadas for New Year's Eve:
Ingredients
Meat filling
1 pound ground beef, preferable from grass-fed beef
1 jar organic salsa, medium hot
1 onion, chopped
1 teaspoon chili powder
1 teaspoon ancho chile powder
salt, about 1 teaspoon (I use Celtic Sea Salt)
freshly ground black pepper
Tostadas
1 package sprouted corn tortillas
duck fat for frying
Refried beans
1 can organic refried beans (or 2 cups homemade pinto beans)
chili powder
duck fat (if the beans are non-fat)
Guacamole
1 avocado
1 small tomato, diced
juice of 1/3 lime, or to taste
salt to taste (I use Celtic Sea Salt)
freshly ground black pepper to taste
Toppings
lettuce, shredded
tomato, chopped, divided
cheddar cheese, shredded
I always do all the chopping and shredding before I start cooking. When the chopping is finished, make the guacamole. This is my usual recipe for guacamole like I made for my Chicken Taco Salad. Peel the avocado by slicing around the pit and twisting the two halves apart. Remove the pit. Scoop out the avocado flesh with a spoon into a small mixing bowl. Mash the avocado with a fork–it's okay to leave some lumps. Add the diced tomato, lime juice, salt, and pepper. Stir with the fork to combine, then put it in the refrigerator until ready to serve.
Seasoned beef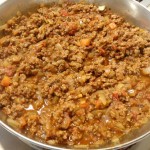 Crumble ground beef in a large skillet and cook over medium heat until lightly browned. Add chopped onion and cook until soft and translucent. Add enough of the salsa to moisten the ground beef. Season with chili powders, salt, and freshly ground black pepper. Let beef mixture simmer while preparing the tostadas.
Refried beans
Empty the can of refried beans into a small saucepan. If your refried beans are non-fat as mine were, add about a tablespoon of duck fat. Add about a teaspoon of chili powder. Stir together and heat over low heat stirring occasionally to prevent sticking.
Tostadas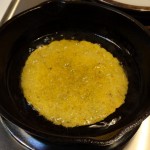 Over medium heat, melt enough duck fat in a small skillet to make about 1/2 to 3/4 inch deep. Cook one tortilla at a time, turning frequently, until lightly brown and crisp. Turning frequently will help to prevent puffing and will keep the tortilla mostly flat.
When all the tostadas are cooked, you are ready to assemble the tostadas and enjoy.
I stack up my tostada fillings in this order: put a tostada on the plate, smear some refried beans to cover most of the tostada, add the hot beef mixture, more salsa, lettuce, tomato, shredded cheese, then top with guacamole.
Yes, years ago I used to buy the pre-cooked tostada and taco shells because they were so much easier and quicker, but no more.  Even if the pre-cooked ones are organic and not GMO, they are usually cooked in unhealthy fats.  Anyway, freshly cooked tostadas really do taste much, much better, especially cooked in duck fat.
Of course, use local, organic ingredients whenever possible.  Also if you have your own homemade fermented salsa do use it at least for the topping, and if you soak your own beans, they would be much preferable to canned beans, even if the canned ones are organic.  We rarely eat beans, so using canned occasionally for a treat is okay.  I almost never measure seasonings but have provided approximate amounts.  Adjust them to your taste.
This post is shared on Fat Tuesday, Fight Back Friday and Real Food Wednesday.