Cheese Biscuits – Grain Free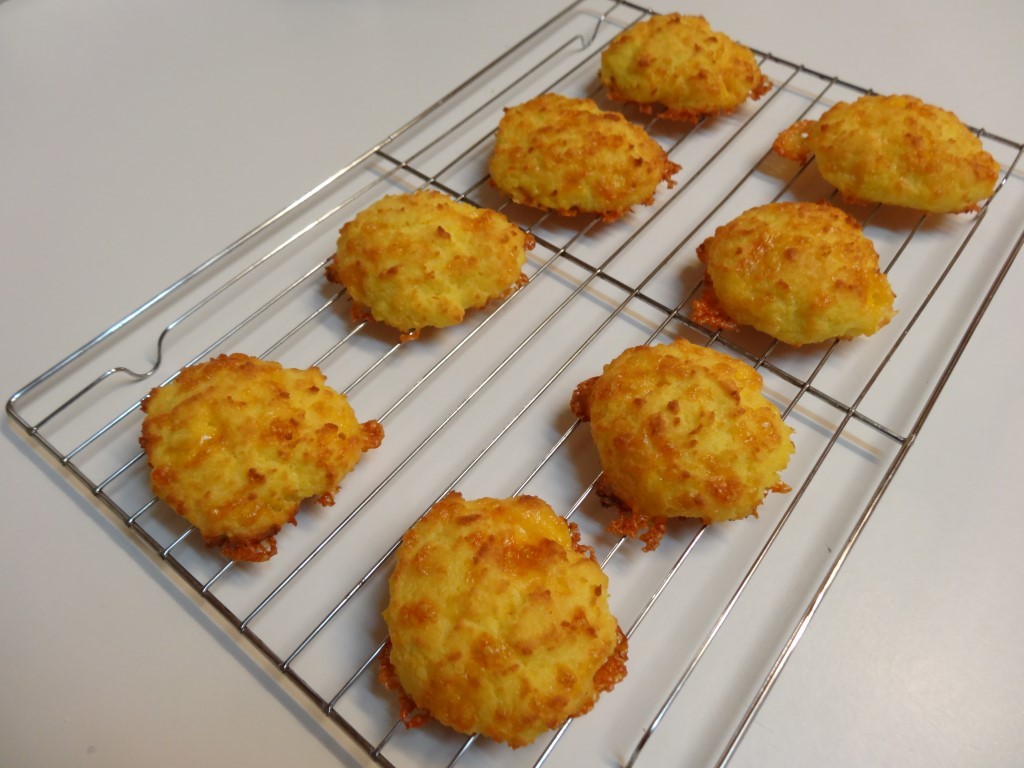 I made my favorite vegetable beef soup the other day and wanted something to add a different flavor to the meal.  We don't eat a lot of bread or bread substitutes; however, we had really enjoyed the coconut flour blueberry muffins, so I thought I would try the coconut flour Cheese Biscuits.  We love cheese with almost everything, especially extra sharp cheddar, which is the kind of cheese I added to these biscuits.
Here's how I made my cheese biscuits:
Ingredients
4 eggs, preferably pastured
1/4 cup butter, melted (or coconut oil), preferably from grass-fed cows
1/4 teaspoon salt, Celtic Sea Salt
1/3 cup sifted coconut flour, organic
1/4 teaspoon baking powder, aluminum free
3/4 cup shredded sharp cheddar cheese, from rBST free cows (no GMOs)
Preparation
Blend together eggs, butter, and salt.  Combine coconut flour with baking powder and whisk into batter until there are no lumps.  Fold in cheese.  Drop batter by the spoonful onto a cookie sheet lined with parchment paper.  (You could use a greased cookie sheet instead.)  Bake at 400 degrees F for 15 minutes.  Makes 8 biscuits.
By the way, the crispy, cheesy biscuit edges you see in the photo were especially good!
Other options
For onion biscuits, add 1/4 teaspoon onion powder when you blend the eggs, butter, and salt.
For garlic cheese biscuits, fold 8 diced cloves of garlic into the batter after adding the shredded cheese.
This recipe is based on one by Bruce Fife in his Cooking with Coconut Flour cookbook.
This post is shared on Fat Tuesday.