No food freedom in Texas! Texas raw milk farmer's license suspended for delivering milk!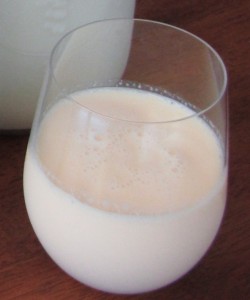 [Update February 12, 2013:  Wow! I've already got an update.  I just found a video of the farmer being forced to dump 700 gallons of raw milk ($5,000), just because he was delivering.  There was nothing wrong with the milk.  Why was he required to waste good milk??  The video is added below.]
I've just learned that a Texas raw milk farmer had his license suspended last week for delivering raw milk!  The suspension was prompted by a complaint, but the complaint had nothing to do with the safety or quality of the milk!  The only problem was the delivery.  To get his license reinstated, the farmer had to promise he would make no more deliveries.  Yes, delivery is against current Texas regulations, but why is it wrong to deliver raw milk?  Let's look at how raw milk is handled in Texas and what we can do about it.
Texas raw milk legislation
Current Texas regulations require that raw milk sales must be at the farm and only directly to the consumer.  The farmer must have a Grade A Raw for Retail Milk Permit.  Texans can legally buy licensed, raw milk, but they must to drive to the farm — which is likely to be several hours away — to get it.  Many people (most?) live in cities and suburbs, and urbanization has pushed farms farther out.  As FARFA says, "The current law burdens consumers, and it penalizes family farmers who are unfairly prevented from marketing their milk." (source)
Previous raw milk bill defeat
Two years ago during the last Texas legislative session, a bill (HB 75) to allow delivery of raw milk was defeated after pressure was applied to the Texas House committee by the Harris County Public Health Department, the Texas Medical Association, and the dairy industry. (source)
The Farm and Ranch Freedom Alliance reported that the "Harris County Public Health Department has been one of the major barriers to any reform of the laws governing local foods.  The Department hired lobbyists using Houstonians' tax dollars and opposed the raw milk bill, the farmers market bill, and the cottage foods bill. Harris County was reportedly responsible for killing HB 2084 (the local foods omnibus bill) in the Local & Consent Calendars Committee so that it was not voted on by the House."  The Department used Harris county taxpayers' money to defeat a bill that affected all Texans.  The claims that apparently had the most influence on the committee were about safety; but, this is NOT a safety issue. (source)
A food freedom issue, not a food safety issue
As reported by FARFA, "Texas raw milk farmers have an excellent safety record. CDC data from 1998-2010 show that there were only two reported illnesses attributed to raw milk in Texas during that time."  Milk delivered is not any less safe that milk picked up at the farm.  In fact, the farmer would probably store and transport the milk in better condition than many consumers would.  If the milk is delivered conveniently to the customer, there would be no hours-long drive to the farm to pick up milk.  Both farmer and customer would benefit greatly from the passing of this bill.  Who wouldn't benefit?  Here are some possibilities: Big dairy–more competition for their unhealthy, overprocessed CAFO milk!  Physicians–healthier people needing less health care! I'm not sure how the Harris County Health Department would benefit, but it may be that the Department gets pressure from Big Dairy or the medical associations.  It's a sure thing, they shouldn't be using our tax money to hire lobbyists to defeat the bill.  For more information about raw milk in Texas, go to the Farm and Ranch Freedom Alliance, the Texas Alliance for Raw Milk (TX-ARM), The Campaign for Real Milk, or Texas Real Milk.
Support Texas House Bill 46
Texans can help ensure the passage of HB 46 by contacting their legislators. You can call your state representative.  You can send them materials about raw milk.  You can then call your state senator to ask for support when the bill reaches the Texas Senate.  For more details and suggestions about what to do, see the alert from the Farm and Ranch Freedom Alliance.
Local Foods Education Day, March 19. in Austin

You can also join raw milk supporters for the Local Foods Education Day, March 19, in Austin.
Update, February 12, 2013: See the Miller Farms Dairy raw milk poured down the drain
This post is shared on Fat Tuesday and Real Food Wednesday.
Related posts:

Drinking Raw Milk Is Safe – Based on Government Data
Dr. Richard Raymond Recommends Law Banning Raw Milk
John Sheehan, the Man Behind the FDA's War on Raw Milk
A CDC study carefully selects data and criteria to support anti-raw milk position
Who controls the Harris County Health Department?