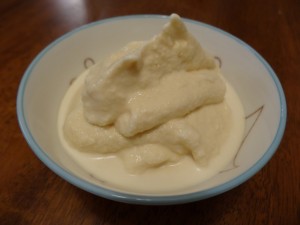 It's the middle of March and we're already close to breaking high temperature records here in Houston! It was 89 yesterday, which tied a record from 1907. Of course, summers are always hot here, but we don't usually start quite this early, at least not for the last hundred years. But now that it's hot weather, what's better to cool off than having some cold, sweet ice cream? I used to think it was too hard to make homemade ice cream–all that cranking and waiting.  And, store-bought ice cream is made from unhealthy milk and has all those unwanted additives.  However, I've found that making my own REAL ice cream can be very easy, and it doesn't take too long either. Best of all–when it's homemade, it can be both healthy and delicious! You don't even need to feel guilty when you eat your own delicious homemade REAL ice cream.
Here's my version of basic REAL vanilla ice cream:
Ingredients
3 egg yolks, from local, healthy pastured chickens (local sources)
1/2 cup organic maple syrup
3 tablespoons organic vanilla extract
3 1/2 cups raw heavy cream (local sources)
1 tablespoon arrowroot (optional)
dash sea salt
Beat egg yolks in a mixing bowl and blend in remaining ingredients with a whisk. I've never added the optional arrowroot and like the results, but adding it might improve the texture.  I use an older version of the Cuisinart 1-1/2-Quart Ice Cream Maker
that has a frozen drum and doesn't require ice or salt.  When the mixture is ready to freeze, take the frozen ice cream maker drum from the freezer. (Leave the drum in the freezer until you are ready to pour in the mixture–it begins to thaw quickly.)  Put the frozen drum into the maker and pour in the ice cream mix .
The ice cream is ready when it begins to climb the side of the maker. I've found it takes about 25 to 30 minutes to produce soft serve ice cream.  Of course, you can also do what I always do! Taste it–just to be absolutely sure it's ready to serve.
I love soft serve ice cream, but, if you prefer harder ice cream, just put it into the freezer for several hours.
Right now I'm enjoying a bowl of REAL vanilla ice cream with cubed organic Ataulfo mango–a super delicious combo!  Homemade ice cream is probably our number one favorite treat!
Note:  Using 1/2 cup maple syrup makes a fairly sweet ice cream.  to make it less sweet, you could reduce the maple syrup to 1/3 cup.
This recipe is based on the Vanilla Ice Cream recipe in Nourishing Traditions by Sally Fallon.