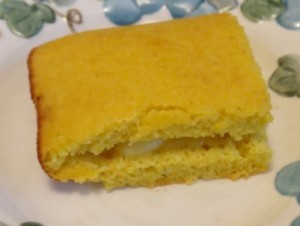 Having been born and always lived in the South, cornbread is one of my favorite foods, especially served hot with lots of butter melted inside.  I've posted a recipe for traditional Southern Cornbread before; however, I've been wanting to reduce the amount of grains and carbohydrates in my diet. When I saw a recipe for cornbread using coconut flour, I really doubted that it could be as good as my traditional recipe, but I thought I would give it a try.   Well, my version of this recipe turned out to be just what I was looking for–it had the familiar taste and texture I loved and had only a few grams of carbohydrates per piece.  Although this is not a grain-free recipe, it has far less grain than traditional cornbread.  To further lower the carb count, I also used only one tablespoon of honey and added a few drops of stevia.  Here's how I made my Coconut Flour Cornbread:
Ingredients
6 eggs, preferably from pastured chickens
1/3 cup butter, melted, from grass-fed cows
1 tablespoon honey
4 drops liquid stevia
½ teaspoon organic vanilla
½ teaspoon unrefined sea salt
¼ cup sifted organic coconut flour
½ teaspoon baking powder (aluminum free)
1/3 cup cornmeal (sprouted corn flour)
Preparation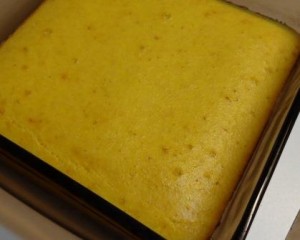 Blend together eggs, butter, honey, stevia, vanilla, and salt.  Combine coconut flour, baking powder, and cornmeal and whisk into batter until there are no lumps.  Fill buttered 8x8x2 inch baking dish.  Bake at 400 degrees F for 15-18 minutes.  Makes 9 servings.
There are approximately 5 net grams of carbohydrates per serving.
This cornbread is extra good with soups and stews like Southwestern Stew and Vegetable Beef Soup.