Better than cake! Birthday Chocolate Cream Pie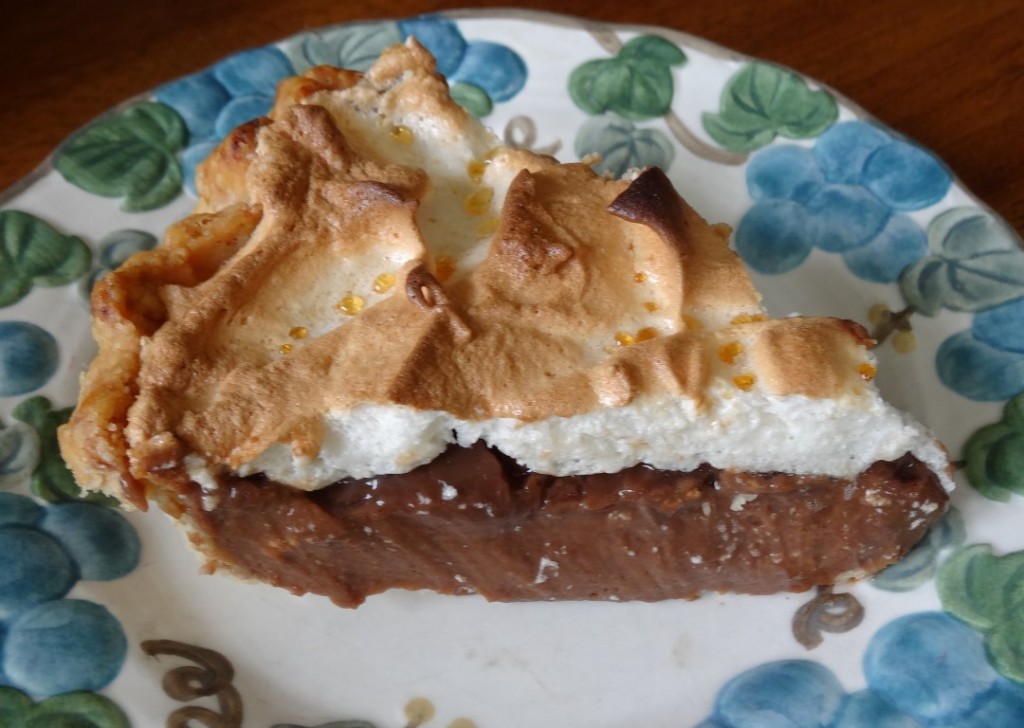 My son has always preferred pie to cake, and for many years on his birthday he's asked for his favorite chocolate cream pie instead of cake.  The recipe has evolved over the years as I've learned to use healthier ingredients, and now that I use raw milk, pastured eggs, and lard piecrust, it's even more delicious than ever.  We all enjoy his birthday pie!  You might want to try pie instead of cake for a family birthday!
Here's how I make my son's Birthday Chocolate Cream Pie:
Ingredients:
1 baked 9″ pie crust (recipe below)
Filling
2 cups raw milk
1 cup sugar (I used organic evaporated cane sugar)
1/3 cup raw cacao powder (I use Sunfood)
1/3 cup flour, organic unbleached white or sprouted white wheat (I use Bob's Red Mill)
pinch of sea salt (I use Celtic Sea Salt)
3 eggs, separated, preferably from pastured hens (whites will be used in the meringue)
1/4 cup butter (I use KerryGold)
1/4 teaspoon organic vanilla
Meringue
1/4 teaspoon vanilla
1/4 cup sugar (I used organic evaporated cane sugar)
To prepare filling, combine 1 cup sugar, cacao powder, flour, and salt in a heavy saucepan; stir to remove lumps. Combine egg yolks and milk in a mixing bowl and mix well. Gradually add egg/milk mixture to cacao mixture, stirring until well blended. (I use a wire whisk.) Cook over medium heat, stirring constantly, until mixture thickens and comes to a boil. Boil 1 minute, stirring constantly. Remove the pan from the heat and add butter and vanilla. Stir until the butter melts and is well combined. Pour filling into the baked pie shell.
To prepare meringue, combine the egg whites and vanilla; beat until foamy. Add 1/4 cup sugar, 1 tablespoon at a time, beating until stiff. Spread over the filling, sealing to the edge. Bake the pie for 10 minutes at 400 degrees Fahrenheit or until browned.
Lard Piecrust (based on Flaky Pastry Dough from the Joy of Cooking)
2-1/2 cups organic unbleached white flour (you could use organic sprouted white wheat)
1 teaspoon sugar (I used organic evaporated cane sugar)
1 teaspoon salt
1 cup lard, from pastured pigs
1/3 cup plus 1 tablespoon ice water
Combine dry ingredients, then add lard using a pastry blender. Blend until some of the lard is in pea-sized pieces. Drizzle the ice water over the dry mixture and cut it in with a rubber spatula until it is evenly moistened. Press down on the dough with the spatula. If it sticks together you do not need to add more water, but if it is still dry, add 1 to 2 more tablespoons of water. Divide the dough in half and press each half into a round flat disk and wrap tightly in plastic. Refrigerate for at least 30 minutes or for several hours (up to 2 days). You will only need one half of the pie dough for this recipe. I froze the second one for later use.
Roll out the pie crust on a lightly floured surface.  I use my counter top.  Carefully place the crust in the pie plate.  Trim to fit and crimp the edges.  To keep the crust from puffing, I line the crust with foil lined parchment paper filled with dry beans.  You could also use pie weights.  Bake the bean-filled crust in a preheated 400 degree oven for 20 minutes.  Remove the parchment paper and beans.  Bake for about 10 more minutes until evenly browned.
If you haven't worked with pie dough very much, I recommend reading the excellent and very detailed instructions for making pies in the Joy of Cooking.
Although this recipe does have a lot of sugar and some refined flour, remember it is a once a year treat so just enjoy!
This recipe is shared on Fat Tuesday at Real Food Forager and Real Food Wednesday at Kelly the Kitchen Kop.