Healthyway Dairy has lots of Real Milk!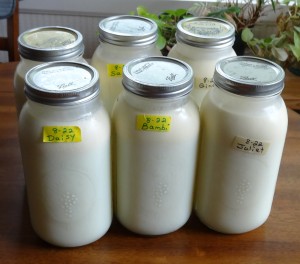 We buy most of our milk from Healthyway Dairy in Santa Fe, Texas.  It's the closest licensed Grade A raw milk dairy to our house, and we really enjoy talking to Bill and Irene Nelson about their cows.
Earlier in the year the milk supply was low, but the birth of several calves has greatly increased the volume of milk available.  They now have plenty of milk!  Healthyway is a small family dairy farm where the grass-fed cows are very well cared for and cared about.  Bill and Irene know exactly how each one wants to be treated.
Our most recent weekly trip to pick up milk found both of the dairy's refrigerators full of half-gallon jars of fresh, cold, creamy milk.  Each jar is labeled with the cow's name and the date of milking.
If you are looking for a good supply of delicious and nutritious Real Milk, I can highly recommend a trip to Healthyway Dairy.  You will be glad you got your fresh milk there!
Healthyway Dairy is located at 15525 Cedar Street, Santa Fe, Texas.  Healthyway Dairy Facebook page.
We've been buying milk from Bill and Irene for several years, and I've written about their dairy before.  You might want to read my previous posts:
Milk is Plentiful at Healthy Way Dairy
Toddlers have a great time at Healthy Way Dairy!
If you're still not sure about why you should drink raw milk, RealMilk.com has good information about its benefits and safety.
Update September 20, 2014:  Bill and Irene Nelson are good people who care about their cows and helping others be healthier by drinking their raw milk.  Watch a superb documentary about life on their dairy farm here.