Pastured Chicken and Okra with Coconut Milk and Indian Spices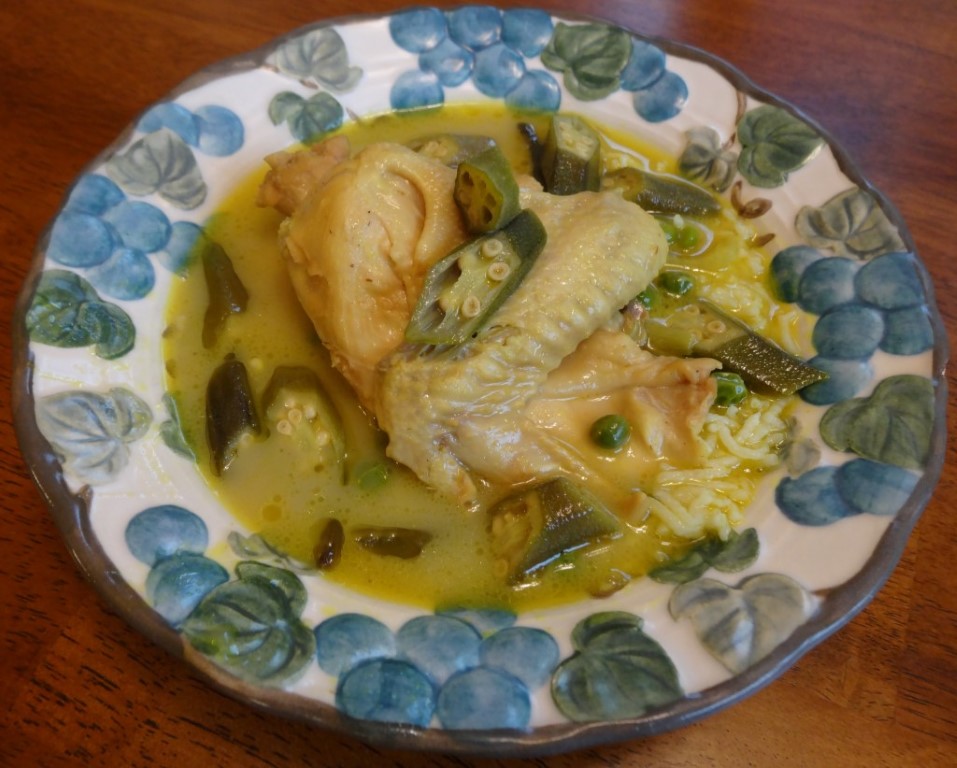 Summer in Houston means a plentiful supply of fresh okra,and I'm always looking for new ways to use seasonal, organic produce.  Last Saturday at the farmers' market was no exception–I found a nice bunch of beautiful red okra pods grown by one of my favorite local backyard farmers.  I thought it would make a beautiful addition to a one-pot chicken stew, and it did; however, the okra turned green when cooked, and looked just like regular okra.  It was still delicious, but didn't add the color I'd hoped for.  Here's my recipe for chicken and okra stew made with coconut milk in a base of pastured chicken bone broth with Indian curry spices.
Pastured Chicken and Okra Stew with Coconut Milk
Ingredients
2 to 3 pounds cut up pastured chicken pieces (I used local pastured chicken)
4 tablespoons butter (or coconut oil) (I used Kerrygold)
1 medium organic onion, chopped
1 to 4 cloves of organic garlic, minced
1 can full-fat organic coconut milk (about 14 ounces) (I used Thai Kitchen)
2 cups diagonally sliced fresh organic okra
1 cup fresh or frozen organic green peas (I used frozen organic peas)
2 teaspoons turmeric*
2 teaspoons garam masala*
1 teaspoons cumin*
1/2 teaspoon coriander*
4 cups chicken bone broth or stock (or a mixture of broth and filtered water) (I used homemade bone broth)
1 teaspoon salt (I use Celtic Sea Salt)
Preparation
In a large stockpot, simmer pastured chicken pieces in broth or stock for about 1 hour.
15 minutes before chicken is done, melt butter (or coconut oil) in a medium skillet.  Saute onion and garlic until soft but not brown.  Add spices and continue cooking for about one minute.
Add onion, garlic, and spice mixture to stockpot along with okra, peas, and salt.  Simmer until okra is just tender, about 10 minutes.
Serve the chicken and okra stew over cooked long-grain rice.  We ate our stew in bowls over fragrant, organic Indian white basmati rice.
Quick alternate using cooked chicken:  If you have leftover cooked chicken meat, maybe from making broth or stock, you can substitute 3 to 4 cups shredded cooked chicken for the chicken pieces.  Begin preparing the stew by sauteing the onion and garlic in butter in the stockpot.  Add the spices and cook for about one minute.  Add all remaining ingredients to the stockpot and simmer for 10 minutes until the okra is tender.  Using cooked chicken will save time and is a great way to use chicken from making stock.  If you substitute cooked chicken, use all stock or broth, no water to increase the nutrients.
* Whenever possible use organic spices and herbs that have not been irradiated.