Sprouted Whole Wheat Flour Biscuits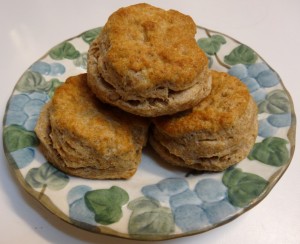 We were having another version of leftover soup a few days ago, and, although we love this soup just as it is, this time I wanted a little something extra to go along with it.  I'd been wanting to make biscuits with sprouted flour and decided this was the perfect time to do it.
Wow!  These were just about perfect!  Tender, moist, and full of butter!  They were exactly how I like my biscuits.  They taste way better (and are more nutritious too!) than the white flour & hydrogenated shortening biscuits I grew up with, and they have the melt-in-your mouth texture and flaky richness I love.
This is an updated, healthier version of my standard basic biscuit recipe.  I used sprouted flour to minimize the phytates in the flour and to eliminate the need for soaking or fermenting.
Ingredients
2 cups sprouted whole wheat flour (I used To Your Health Sprouted Flour)
1/2 teaspoon salt (I used Celtic Sea Salt)
2 teaspoons baking powder (I used aluminum free Rumford)
1/2 cup butter (I used Kerrygold)
2/3 cup milk (I used whole raw milk from Healthyway Dairy)
Instructions
Preheat over to 400 degrees.  Combine dry ingredients.  Cut butter into dry ingredients until crumbly. I used a pastry blender but you can also use a food processor.  Add milk until dough forms a ball. If more milk is needed to form a ball, add 1 tablespoon of milk at a time until the dough forms a ball.  Knead gently a few times, but do not overwork.  Pat out dough on a floured board or counter about ½ inch thick.  Cut with a biscuit cutter.
Bake on an ungreased cookie sheet in preheated oven for 10 to 15 minutes until lightly browned.
Serve hot.
Makes 8 to 10 biscuits.
I loved these biscuits so much I wanted to go ahead and post the recipe, but I will be posting more ab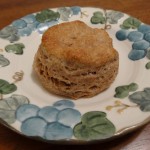 out that leftover soup we ate with the biscuits, plus our Thanksgiving dinner, cornbread, and pumpkin pie recipes are coming soon.
Don't try to skimp on the butter!  Using a full 1/2 cup of butter really improves the taste and texture, plus it adds lots more fat soluble vitamins.  Of course, we all added more butter to our hot biscuits!
Try these and enjoy!
This post is shared on Fat Tuesday and Real Food Wednesday.