Roast Goose for Thanksgiving Dinner
My family doesn't especially like the white meat in chicken or turkey.  That's why we usually prefer goose or duck because the meat is all dark meat–tender and full of flavor.  Last year's Christmas dinner featured roast duckling.  Modern turkeys are bred for a super large breast so the proportion of white meat to dark meat is not normal.  To have more of the juicy dark meat that we like, we opted out of turkey for our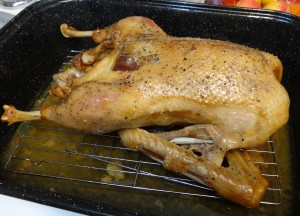 Thanksgiving dinner this year.  There's another great reason to have goose or duck for special dinners–the leftover fat can be saved and is perfect for cooking and frying.
For our Thanksgiving dinner, we had roast goose, a healthier version of the classic green bean casserole, broccoli, mixed squash with onion and butter, fermented cranberry-orange relish, and sprouted flour cornbread.
I roasted the goose in an covered enameled roasting pan at 250 degrees F. for about four hours.  It was oh so tender but also nicely browned.
My daughter brought her version of Real Food Green Bean Casserole.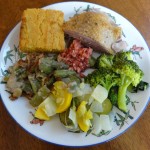 The broccoli, squash, and green beans were from all from our local farmers market.
The cranberry orange relish was my version of the recipe from Kelly the Kitchen Kop.
The cornbread is made with sprouted flour and is sooo good that I just had to feature it with its own post – Sprouted Flour Cornbread.  It's not grain-free, but it is gluten-free and wheat-free.
Our dessert was a healthier version of traditional pumpkin pie, made with raw cream and a lard crust.