Cornbread Dressing (or Stuffing) – Gluten-free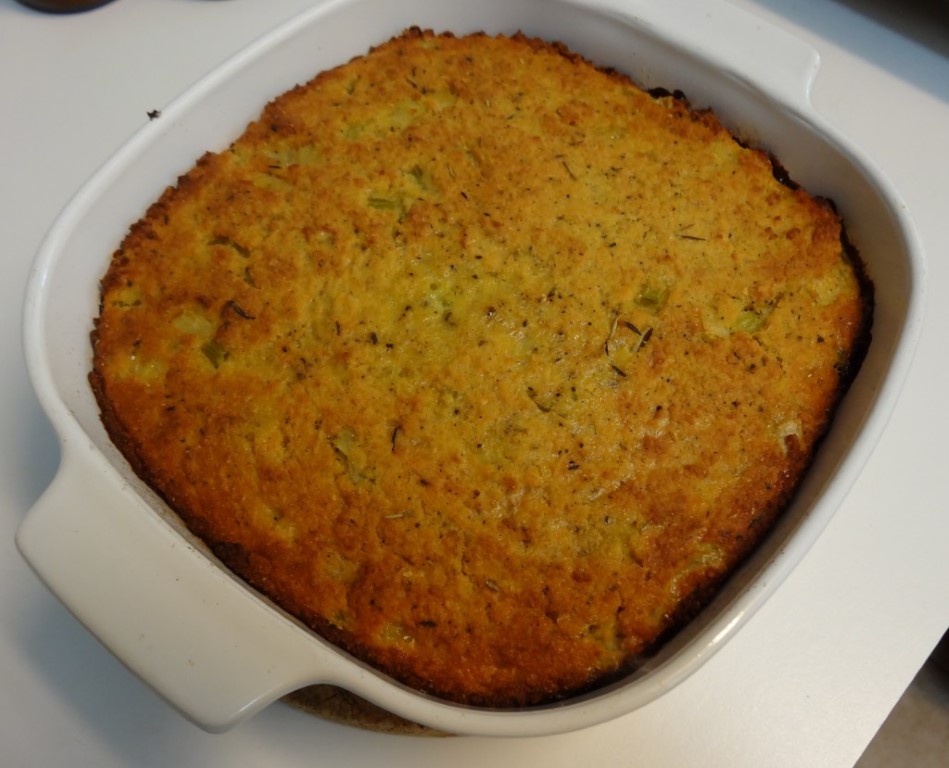 Although I grew up eating cornbread and cornbread dressing, I haven't used it much recently due to concern about the preparation of the cornmeal.  I had learned how important it is to prepare corn properly for good nutrition and better digestion.  To find a healthier cornmeal, I've been experimenting with sprouted corn flour in place of the commercial, degerminated cornmeal my family used to have.  I've found that sprouted corn flour works very well in cornbread and doesn't require soaking. It's quick and easy to prepare, and–a big plus–it has the familiar and well-loved taste and texture that I remember.
Since I know that sprouted corn flour makes excellent cornbread, I decided to add cornbread dressing back into our meals, especially holiday meals with baked chicken, ham, and turkey.  We had this delicious dressing with our Christmas dinner this year.
Cornbread Dressing
Ingredients
1 pan baked cornbread
1/2 cup chopped organic celery
1/2 cup chopped organic onion
2 tablespoons butter (I use Kerrygold grassfed butter)
2 teaspoons dried sage, or to taste (I used Penzey's rubbed sage)
1/2 teaspoon thyme (I used Penzey's French thyme)
1/2 teaspoon rosemary (I used Frontier Organic Rosemary
)
dash nutmeg (I used Frontier Organic Nutmeg
)
1/2 teaspoon freshly ground black pepper (I use Frontier Organic Black Peppercorns
)
Sea salt to taste, about 1/2 teaspoon (I use Celtic Sea Salt
)
2 eggs, beaten, preferably from pastured hens
Broth, from the turkey or chicken, or other homemade broth (I used homemade beef broth)
Preparation
Saute celery and onion in the butter until translucent.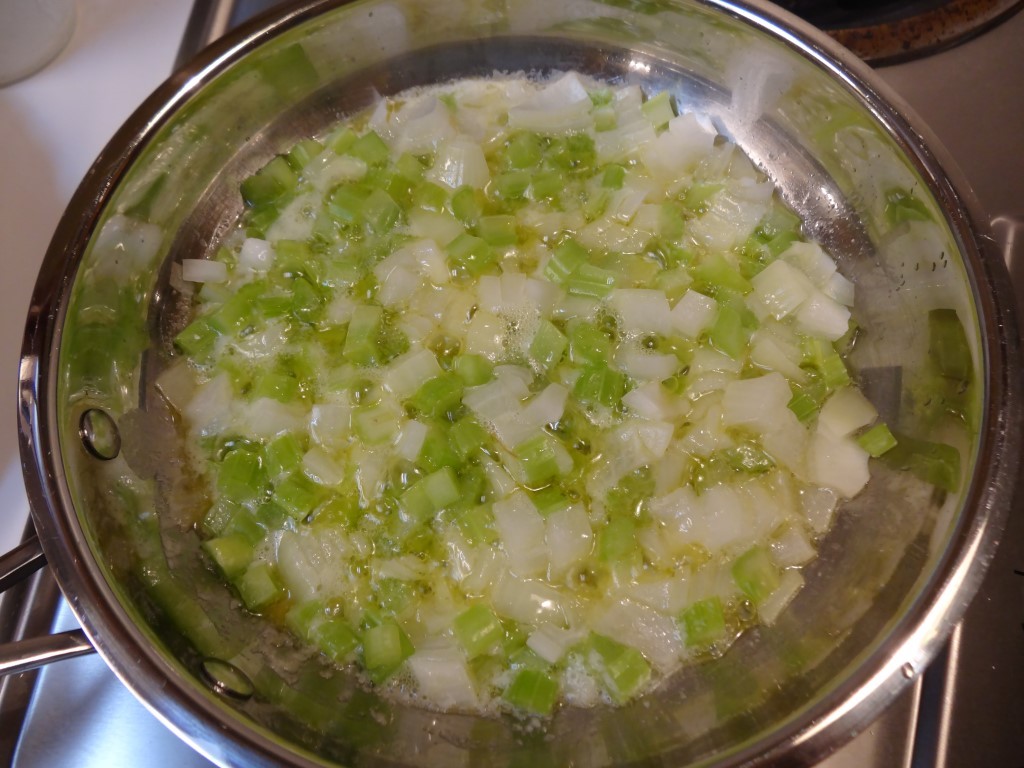 Using your hands, crumble the cornbread into a large bowl. I love the Pyrex 8-Cup Measuring Bowl
with a handle.  They are so easy to use and pour or scoop from.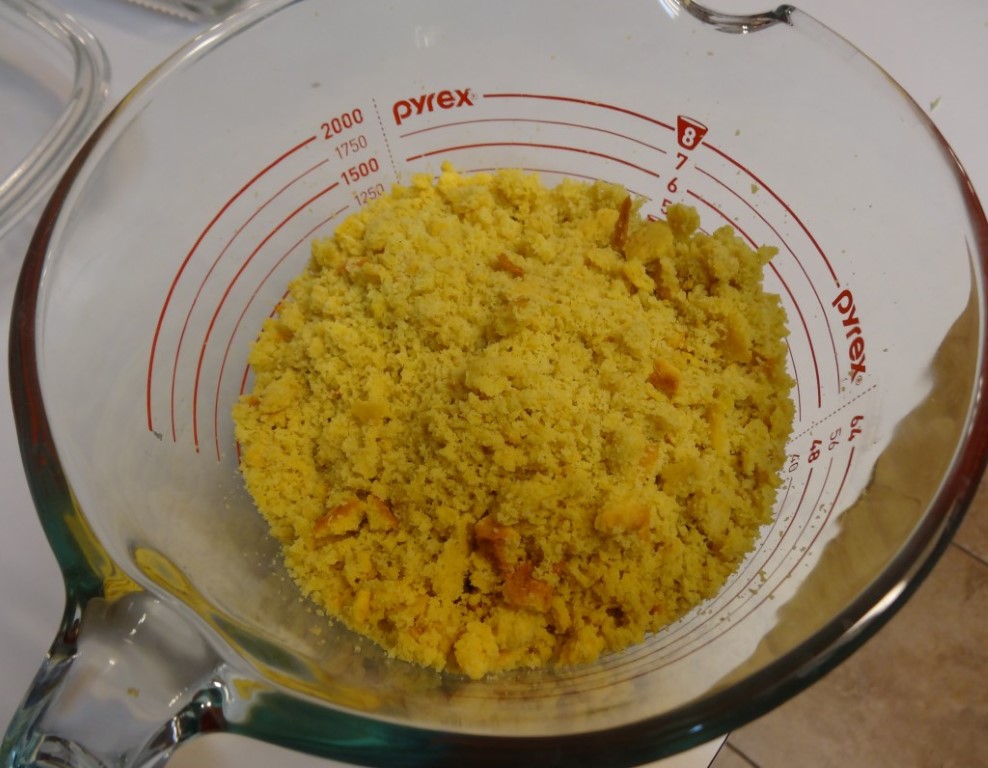 Add the sauteed celery and onion, pepper, salt, herbs, beaten eggs and broth.  Start with about one cup of broth.  Stir to combine well.  Add more broth to get the texture you want.  I like a soft, almost custard-like dressing, so I usually add more broth.  If you like a drier dressing, you may not need more broth.  The mixture should hold its shape when pressed with the spoon.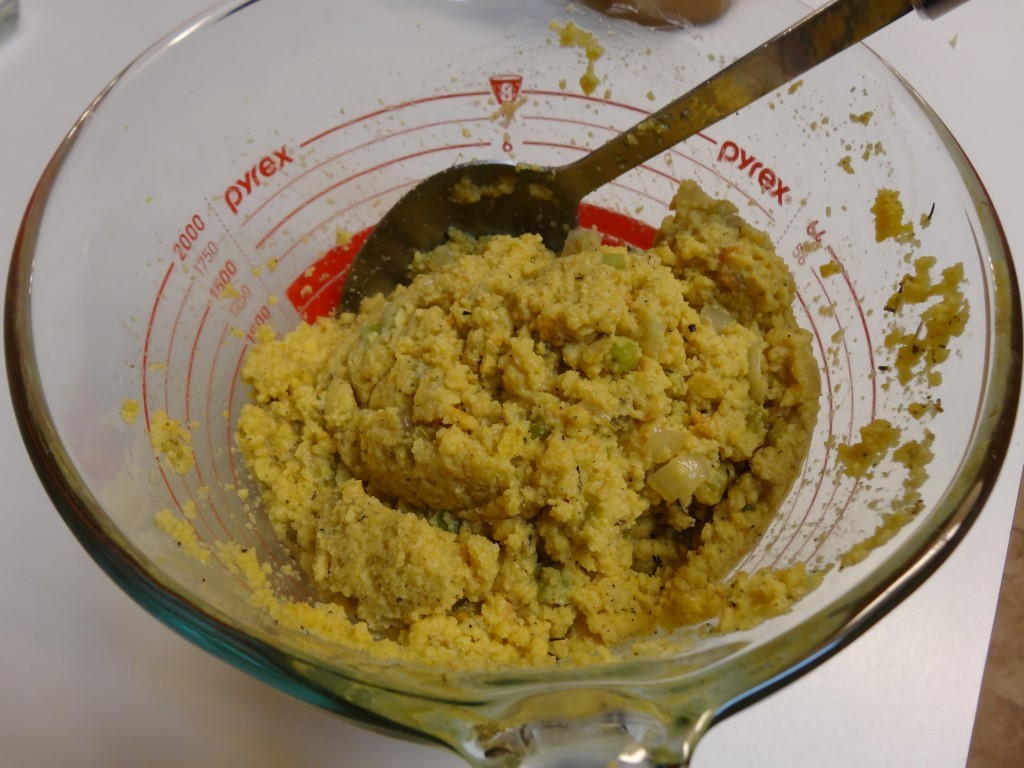 Put the dressing in a buttered casserole dish.  For our Christmas dinner, I made the dressing the day before and put it in the refrigerator overnight.  I baked it in the same oven with the chicken.
Bake the dressing covered for 30 minutes in a preheated 350 degree Fahrenheit oven.  Uncover and bake for about another 30 minutes until golden brown on top.  The dressing can be baked in the same oven with the turkey or chicken if you have room.
Variations
You can add cooked, chopped giblets or oysters to the dressing mixture.
To double the recipe:  If you do not need a gluten-free dressing, you can double the recipe by adding 6 to 10 slices of crumbled bread, 3 eggs, 1 cup each of celery and onions, 1/4 cup butter, and double the seasonings.  Bake in a buttered 9 by 13 baking dish.  You could also double the recipe by using a double recipe of baked cornbread instead of adding bread, using 3 eggs, and doubling the other ingredients.
Note:  the terms dressing and stuffing are interchangeable.  This dressing could be used for stuffing a turkey or chicken, but don't add as much broth since it will absorb juices from the bird.