Gingerbread with Cream Cheese and Raw Honey Topping
Finally, this is the last recipe I will post from our delicious Christmas dinner.  This gingerbread was a real treat, a special occasion dessert.  It was made with shredded fresh ginger and sprouted whole wheat flour and served with a dollop of sweet and smooth cream cheese and raw honey topping.  It was the perfect ending to an excellent dinner.  I will probably not wait for another holiday to make this gingerbread again.
We rarely have dessert, but when we do, I want it to be made with the best and most nutritious ingredients possible.
Here's how I made this gingerbread. . .
Gingerbread with Cream Cheese and Raw Honey Topping
Ingredients
2 1/4 cups sprouted whole wheat flour (I used To Your Health Sprouted Flour)
1 teaspoon baking soda (I used Bob's Red Mill Baking Soda
)
1 teaspoon ground cinnamon (I used Frontier Ceylon Cinnamon
)
1/4 teaspoon ground allspice (I used Frontier
)
1/2 teaspoon salt (I use Celtic Sea Salt
)
1/2 cup (4 ounces) butter, softened (I use Kerrygold butter)
2/3 cup molasses
2/3 cup sucanat (I used Rapunzel
)
2 large eggs, preferably from pastured chickens
3 tablespoons finely grated peeled organic ginger
2/3 cup hot water
Topping
8 ounces cream cheese, softened (I used Central Market organic cream cheese)
3 tablespoons raw honey (I used local raw honey from Gulf Coast Honey Bee Farms)
Preparation
Preheat the oven to 350 degrees Fahrenheit.  Butter a 9-inch square pan.  Combine flour, baking soda, spices, and salt in a large bowl.
With an electric mixer on medium speed, beat together butter, molasses, sucanat, eggs, and ginger in a large bowl until combined.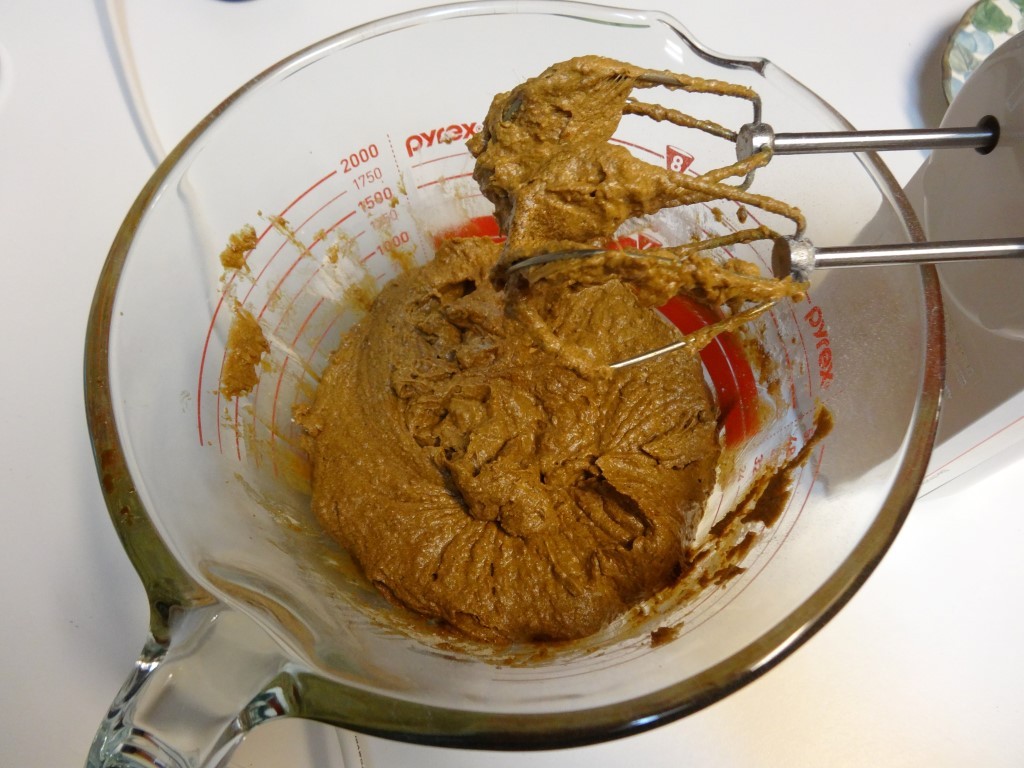 Reduce speed to low and add in flour mixture until smooth.
Add hot water and mix until combined.
Put batter into the buttered pan and bake until a wooden toothpick inserted in the center comes out clean, about 35 to 40 minutes.  Cool in the pan on a rack.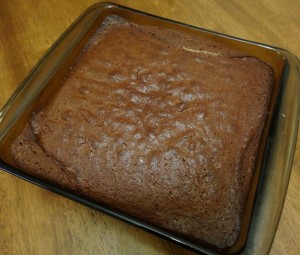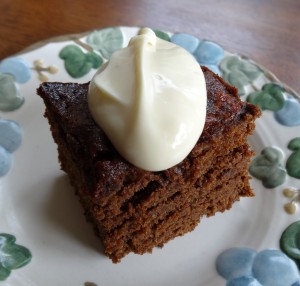 The gingerbread may be eaten while warm, but I made mine the day before Christmas to save dinner prep time on the big day.
To make the topping, place the cream cheese and honey in a food processor and blend well.
Cut the ginger bread into squares and top each with a spoonful of cream cheese topping.
The topping is based on a recipe in Nourishing Traditions by Sally Fallon.
Note:  I hadn't bought enough fresh ginger and had only about 2 tablespoons of grated ginger, so I supplemented with 1/2 teaspoon of organic ground ginger.
This post is shared on Real Food Wednesday.