Co-op Membership Can Really Help the Budget – Introducing Natural Living Food Co-op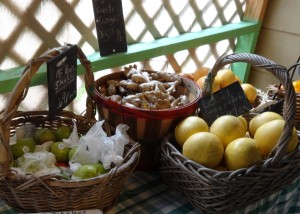 Update August 8, 2015:  Natural Living has moved to a new location, 219 N. Michigan Ave, League City, and is now open more days each week.  The shop is open Wednesday from 9am-4pm, Thursday from 9am-4pm. Friday from 9am-7pm, and Saturday from 9am-3pm.
——————————–
There is a wonderful resource just south of Houston in League City, Texas!  Natural Living Food Co-op, founded by Lisa Piper in 2005, is a complete food co-op.   I first met Lisa several years ago when she had a table of organic clothing at the Nassau Bay Farmer's Market at Erma's Nutrition Center.  I bought a pair of bamboo socks–they were sooo soft.  [Organic clothes is a subject most often overlooked when people talk about going organic, but that's the subject of a future post.]
Well, Lisa has gone way beyond her initial organic clothing offerings.  As she tells it, "Over the years I have tweaked this business and grown from clothing, to alternative health to educational classes. Each part of Natural Living now has a pulse of it's own and is ever growing and changing."
As Natural Living has evolved, it has become a full-spectrum food co-op that offers a wide variety of "organic, natural and specialty foods in bulk and at a discount."
Friday Open Store and Produce Shares

Lisa also operates a store at her home on Friday afternoons from 3 to 7 pm.  I visited LIsa's Friday open store last week and wanted to share with you what a great resource it is. Her produce co-op offers small and large shares which are ordered online and picked up on Fridays.   The produce is primarily from local area farms and includes both fruits and vegetables.  You must be a co-op member to place bulk orders or buy co-op produce shares; however, the Friday store has a selection of extra fruits and vegetables left over from the co-op shares which you can buy even if you are not a member of the co-op.  I bought some red potatoes and an artichoke (shown in the photo above).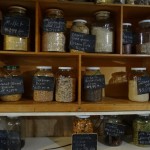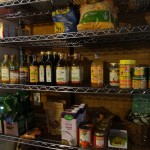 One side of Lisa's Friday store has shelves full of organic beans, seeds, rice, and more, all of which can be measured out for you.  On the other side are packaged organic foods like herbal teas, flour, Bragg's apple cider vinegar, olive oil, etc.  There is also a large selection of bulk herbs and spices.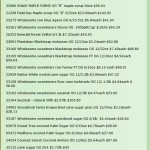 Online Bulk Food Co-op
In addition to produce shares and the Friday store, Natural Living members have a huge selection of bulk items that may be ordered online.  Available bulk foods include dried beans, grains, frozen foods, dried fruits, nuts and nut butters, jams, rice, flour, and much more–it's a long list! To give you an idea of just how much variety the bulk co-op offers, I took a screenshot of just the list of sweeteners.  Click on the photo to get a larger image that you can actually read.
Natural LIving co-op offers many benefits to members.  The annual cost of membership is currently $30 per year, and the fee is prorated for partial years.  Co-op membership includes:
-Organic produce box shares
-Local organic meats, goats milk, goats cheese, eggs,honey
-Organic bulk non-produce items (dry goods, specialty foods, personal products etc.)
-Newsletter which includes recipes, organic world food news, green tips and more
-Discounts for local businesses
-Notices on healthy cooking classes, nutrition seminars & sustainable community events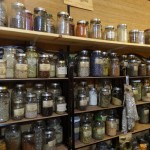 Lisa Piper has many talents, ranging from painting her organic Texas cotton clothing to teaching raw food classes to personal chef services. She is a member of Green co-op America and Go Texan and has written guides on organic clothing and given seminars.
If you live in the area, I highly recommend that you check out Lisa Piper's Natural Living Food Co-op.  I couldn't begin to list everything Lisa offers in her co-op.  For more information and a complete list of the foods and services offered, visit the Natural Living website.