Nutritious Food is the Focus at the WAPF Nutrition and Health Conference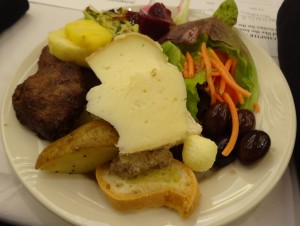 Wow!  It's hard to believe it's over.  We just completed the Houston Regional Wise Traditions Conference sponsored by the Weston A. Price Foundation.  We had been anticipating it for so long, we thought it would never come, but finally it was here and it was exciting!
The people who attended were very enthusiastic and sooo glad they had come.  I was volunteering at the WAPF table for much of the conference, but fortunately I did get to hear some of the speakers.
I will be writing about a lot of the information, tips and hints that I learned as well as the people I talked with and the vendors in the exhibit hall.  However, first I am going to tell you about the food, which, of course, is the focus of good nutrition–eating nutrient-dense, healthy Real Food!
If you haven't been lucky enough to attend a WAPF conference before, you may not know that most of the meals (the lunches at the regional conferences) are included in the registration and are prepared by the hotel staff using donated food.  My husband and I have attended several national conferences beginning with the one in Chicago in 2009, and we always enjoy the food.
Since our first conference experience in Chicago, we have really looked forward to the food almost as much as for the opportunity to learn nutrition and health information.  The food is always delicious, well prepared, and satisfying, but even more important, we don't need to be careful what we choose to eat because we know that it is all healthy.
I'm sure you've been to conferences or meetings where you either had to avoid some of the food or just throw caution to the winds and eat it anyway, knowing it was mostly junk.  That never happens at a WAPF conference.  Even people who need to be gluten-free can know what is safe to eat, and that all the food has been prepared according to wise traditional methods.
Well, enough about food at other conferences, let's talk about the food at our Houston conference.  Both Saturday and Sunday lunches were included in the registration.  The donated food came from both local and national providers, and I want to give a huge thanks to all of them for helping us enjoy our conference more by having good healthy food to eat.
A GRATEFUL THANK YOU TO ALL OF THE PROVIDERS WHO DONATED FOOD FOR OUR MEALS!!!
Saturday Lunch
Let's begin with Saturday lunch.  The menu included a mixed green salad donated by Last Organic Outpost, located in Houston's fifth ward where they teach urban farming.  They donated the greens for the salad both Saturday and Sunday.  The vinaigrette salad dressing was prepared with Olea Estates olive oil.  Olea olive oil is pure extra virgin organic produced on a family farm in Greece.
The main course was organ meat loaf donated by MeatWorks Butchery & Market, a farm and butcher shop where they raise grassfed beef, pastured lamb, pig, and chicken.  The meat loaf was delicious, and we decided it probably had some beef heart along with ground beef and seasoned perfectly.  The meat loaf was accompanied by kale greens from Naturally Nourished and mashed potatoes.  I can only say that the meat, potatoes, and greens were all super delicious, satisfying.  I know I will be repeating delicious too many times, but how many ways are there to say it?
Desserts at all meals were fruits.  Saturday lunch dessert was poached pears with honey goat cheese.  A perfect ending to a tasty lunch.  Here are photos of some of Saturday's dishes, from left to right–mixed green salad, mashed potatoes, organ meat loaf, and poached pears:
Saturday Dinner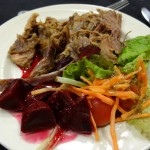 Although it was not included in the registration, my husband and I stayed for the Saturday night dinner and showing of the film Farmaggedon. As with the lunch, the dinner was prepared with donated Real Food.  The salad greens were donated by Last Organic Outpost; the dressing was prepared with Olea Estates olive oil; the moist and tasty Puerto Rican BBQ pulled pork was donated by Eden's Cove Farm in Cedar Creek, Texas; and the delicious fermented beets were donated by Miller's Organic Farm in Pennsylvania.
Sunday Lunch
You would think it would be difficult to top the food so far; however, Sunday lunch had some special items that were extra delicious.  Sunday lunch began with a mixed greens salad donated by Last Organic Outpost dressed with Olea Estate olive oil vinaigrette.  The main course included vegetable frittata with pastured eggs from Jeremiah Cunningham's pastured eggs, from Coyote Creek Farm in Elgin, Texas; pork breakfast sausage donated by MeatWorks Butchery & Market; a selection of raw milk cheese from Brazos Valley Cheese near Waco, Texas; liver paté donated by Windy Meadows Family Farm in Campbell, Texas; breakfast potatoes; and delicious Greek olives from Olea Estate.  All the food was delicious and there was nothing left on my plate when I was finished, but the extra, super special items on the Sunday lunch plate were the Windy Meadows paté, raw milk cheese, and the Greek olives. The photos of my Sunday lunch plate show different sides of the same plate of food.  The food was piled up, but I didn't want you to miss seeing all of the goodies.
The first photo below shows the flavorful pork sausage and the beautiful cheeses from Brazos Valley Cheese, which included horseradish pecan cheddar, brie, and smoked gouda.  Their raw milk cheeses are truly extra special.  The second photo of my Sunday lunch plate shows the salad, fermented beets, and fritatta.  The photo at the top of the post is also of the Sunday lunch and highlights the potatoes, Windy Meadows paté on sourdough, and Olea Greek olives.  A very important part of every meal was refreshing kombucha donated by Houston's own Kickin' Kombucha.  I don't want to forget those who donated food but couldn't afford to donate enough to get a mention in the program or on the menu.  We appreciated very much all the extras that went along with our meal.  Thanks to all who donated any amount of Real Food!
Attendees–What were your favorite foods?
If you attended the WAPF conference in Houston, I would love to hear how you liked the food and what your favorites were.  Please leave a comment.
Although I have written about this before, some of you may not know that I am one of the volunteer co-leaders of the Houston-Galveston Chapter of the Weston A. Price Foundation. For information about our chapter, go to the chapter website.  If you couldn't make it to the conference, you can order DVDs of the entire conference through the Fleetwood Onsite.  I plan to leave the linked conference banner on Real Food Houston so that you can easily find the DVDs and recipes.

This post is shared on Fight Back Friday at Food Renegade.