Nutty Granola – Grain-free, Paleo and Raw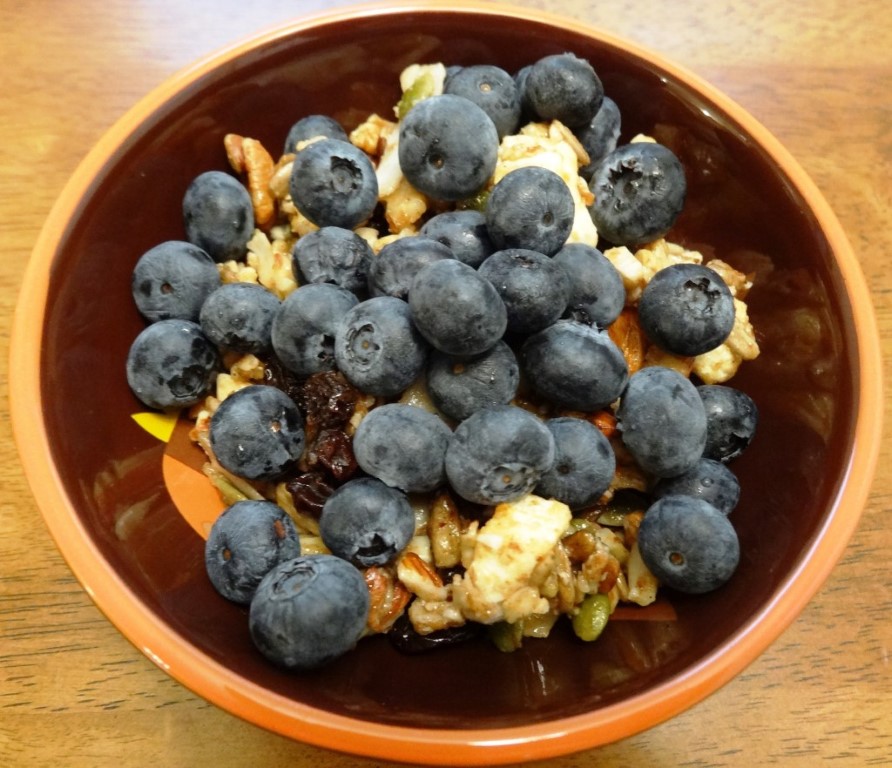 I have always loved granola!  It's crunchy, fruity, and delicious.  However, the recipe I made many, many years ago had lots of oats, unsoaked nuts & seeds and processed vegetable oil.  So, I stopped eating granola.  Anyway, It isn't as nutrient dense as my smoothies or eggs & bacon.  But I have to admit I did miss my granola, even though I have NOT missed eating unhealthy boxed cold cereals.
Oats, the common mainstay of granola, need to be soaked and cooked to make them more digestible.  Read more here about why toasted oats in granola are not good for you.  Although some people have had success making granola from soaked and cooked oats, most say it doesn't make the crunchy granola that I like.  It's more chewy.
I found several versions of grain-free granola and decided to try making my own.  I took some ideas from each, used soaked and dehydrated nuts and seeds, and other safe, healthy ingredients to make my own granola. I wanted all the nuts and seeds to be soaked and dehydrated and everything to remain raw but digestible.   This recipe makes granola just the way I like it.  It adds variety and satisfaction that I had been missing in my diet.  I am so glad I can enjoy my homemade granola again!
Here's how I made my healthier version of granola:
Nutty Granola – Grain-free, Paleo and Raw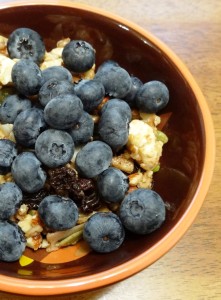 Ingredients
2 cups almonds, soaked and dehydrated
2 cups raw walnuts, soaked and dehydrated
2 cups raw cashews, soaked and dehydrated
2 cups, raw pecans, soaked and dehydrated
1 cup raw pumpkin seeds, soaked and dehydrated
1 cup sunflower seeds, soaked and dehydrated
1 cup dehydrated mango chunks (I use Wilderness Family Naturals)
1 cup coconut chips (I use Wilderness Family Naturals)
2 cups organic raisins (I use Woodstock)
1/4 cup coconut oil (I use Tropical Traditions Gold Label)
1/2 cup raw honey, preferably local (I use Gulf Coast Honey Bee Farms)
1 tablespoon organic vanilla
1 tablespoon Ceylon cinnamon (I use Frontier organic)
1 teaspoon sea salt (I use Celtic Sea Salt)
Preparation
Since I do not have a dehydrator, I buy my nuts and seeds already soaked and dehydrated. I have bought nuts and seeds from both Wilderness Family Naturals and Radiant Life but most of those used in this recipe are from Wilderness Family Naturals.  If you have a dehydrator, here's a video about how to soak and dehydrate your own raw nuts and seeds.
Combine the coconut oil, honey, vanilla, cinnamon and sea salt in a saucepan over very low heat until melted and well mixed. To preserve the enzymes in the honey, it is important that the heat is never hotter than your fingers can safely touch. Coconut oil melts at about 76 degrees Fahrenheit, so the mixture should be easy to mix well before it is too hot to touch.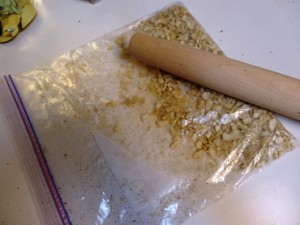 Meanwhile chop nuts. You can use a food processor or a blender, but I found that the easiest and for me the best way is to put the nuts, one kind at a time, in a gallon Ziploc bag and pound with a wooden rolling-pin. This method results in the most evenly broken up pieces. Both the food processor and blender seemed to turn a lot of the nuts into dust before all the pieces are broken up.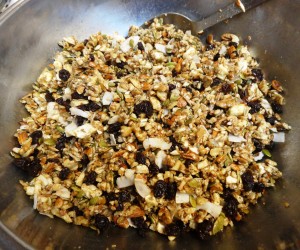 Put all the nuts and seeds in a large bowl. Pour the coconut oil mixture over the nuts and seeds and stir well. I add the coconut oil mixture a little at a time to help distribute it evenly. When well combined, add the mango chunks, coconut chips, and raisins.
Store in airtight glass containers in the refrigerator. I use half-gallon or quart mason jars.
This recipe makes about 4 quarts of grain-free granola.
My favorite way to eat this granola is in a bowl with organic blueberries and raw cream or milk. Oooom good! Delicious and crunchy, just like I like it!
Variations: You can add or substitute other dried fruits such as chopped dates or use other kinds of nuts.  Maple syrup can be used instead of honey.