What is the number one superfood? Can the NuVal nutrition score help us find healthy foods?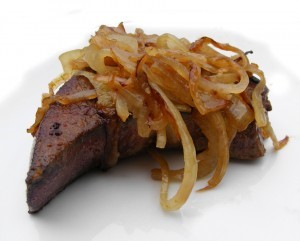 Wouldn't it be great if we could glance at a food on the grocery shelves and know how nutritious it was?  We could then spend our food budget on those foods that would give us the most benefit.  There is a new system that claims to help us do just that, but does it?
Recently @NuValTexas followed @RealFoodHouston on Twitter.  I hadn't heard of NuVal before, but I was curious because their Twitter site claimed it was "dedicated to building a better #Texas."  When someone new follows you don't you look to see who they are and what they are saying?
NuVal, which calls itself Easy Texas Nutrition on Twitter, says "With NuVal nutrition scores, you can quickly, easily compare brands as you shop and buy better nutrition choices."  Sounds great, doesn't it!  We all know that most people need help determining which foods are more nutritious to get better value for their food dollar.
I wanted to know If NuVal delivers on its promise.
According to NuVal's website, their system "scores food on a scale of 1-100. The higher the NuVal Score, the better the nutrition."  They use a "sophisticated scientific algorithm" to calculate the socres. [source]
Sounds like a great idea, doesn't it!  How convenient!  How helpful!  They plan to have the NuVal nutrition score posted on grocery store shelves by each item.  Kroger, as a pilot project, is the only name I recognize on their list of grocery chains that use the NuVal system, but they say more will be added in the next year.
How does NuVal calculate its ratings?  The website says that their system considers "30-plus nutrients and nutrition factors – the good (protein, calcium, vitamins) and the not-so-good (sugar, sodium, cholesterol). And then it boils it down into a simple, easy-to-use number; a number you can trust to make better decisions about nutrition in just a few seconds."  [source]
The first significant clue that NuVal's rating system may not be accurate is their including cholesterol in a list of "not-so-good" factors.  We know, and now science backs it up, that cholesterol is very good for us, in fact essential for our health! It doesn't cause heart disease, and it is especially necessary for brain function. [source]  For more information about the benefits of cholesterol, you can read articles and books by Chris Masterjohn PhD, Mary Enig PhD, or Uffe Ravnskov MD.  Look at Real Food Houston's recommended reading list for some of their books.
What foods should we find at the top of a list of nutrient-dense foods?  Foods are nutrient-dense when they contain lots of fat soluble vitamins, like A, D, E, and K, plus protein and minerals.  My first choice for a nutrient-dense food would probably be liver, followed by eggs and whole milk.
Why choose liver as the number one superfood?  Look how liver stacks up against apples, carrots, and even red meat: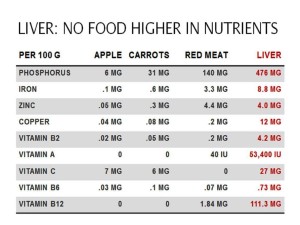 The only nutrient not higher in liver than all the others is zinc, which is slightly higher in red meat, but in every other nutrient listed, liver is way ahead.  Red meat is much higher in all nutrients than apples and carrots, but it can't touch the amount of nutrition in liver.  One of the best sources on the nutrition in liver is Chris Masterjohn's article on liver and cod liver oil.   But you can read more here and here and here about the nutrition in liver.
Now let's look at what foods get a 100 score from NuVal.  Here's a sample chart: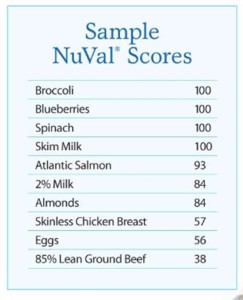 I don't see see liver anywhere.   For more NuVal scores, look here – no liver though.  Top scores are awarded to farmed fish (93 – Atlantic salmon) and soymilk (91 – Silk Soymilk).  Soymilk is not a healthy, nutritious food!  Read Soy Alert to learn about the problems with soy. Although broccoli, blueberries, and spinach are good plant foods, they can't possibly be more nutritious than liver!
But look what we do find with a NuVal score of 100–skim milk!  Now, there is NO WAY that skim milk should be rated as 100, a perfect nutritious food.  Skim milk is a heavily processed product that has had all its fat (and, therefore, all of its fat soluble vitamins) removed.  Plus skim milk is almost always doctored with additives to make it look and taste better.  Real skim milk is somewhat bluish and watery looking and doesn't taste very good. Read here and here about problems with skim milk.  Skim milk has also been associated with excessive weight gain in children.
And look how far down the list NuVal rates eggs–a score of 56!  It looks like they still believe the myth that cholesterol causes heart disease and eggs should be avoided.  Putting 85% lean ground beef at 38 seems to be another victim of the cholesterol myth.  Read here about why eggs are among our healthiest foods.  Read here and here and here for the real truth about cholesterol.
Conclusion
NuVal will NOT help people choose the most nutritious foods and the best foods for their food budget.  It will almost certainly encourage some people to buy less healthy foods.  NuVal will not help much to improve people's health.  NuVal is too far behind the research curve and is not using the latest information about nutrition.
After looking through NuVal's website and nutrition rating system, I feel sure that they will not like many tweets from @RealFoodHouston.
Photo credit: Liver with Onions