What happened to Arrowhead Mills and Walnut Acres?
So many family owned organic farms and food producers are being bought out by major food corporations and often the result is not good for us as consumers!  The story of the selling of Arrowhead Mills and Walnut Acres is a long post and one I've been working on and rewriting for quite a while, but I think the subject is worth discussing as the organic foods business evolves.
When Annie's was bought by General Mills last year and more recently Hormel bought Applegate, I am reminded of what happened after similar sales of organic companies in the past. Sometimes the results are just disappointing, but sometimes they are tragic!
Two Buy-outs and the Two Different Results
Do you remember the real Walnut Acres before it was sold in 1999?  Did you buy Arrowhead Mills grains and beans before they were bought by Hain?  Both of these companies were pioneers in the organic food business and were bought out but with very different outcomes.
The saddest of the two stories is what happened to Walnut Acres, and I want to leave its history until last.  First I'll summarize what happened at Arrowhead Mills, the organic producer of some of the best quality grains, beans, and other products for many years, well before organic became mainstream.
The Arrowhead Mills Story
Back in the early 80's when my children were small, in order to get the best quality food for my family, I joined multiple food co-ops, some organic, some not, since organic was not widely available then.  One of those co-ops was for large buys of organic foods from Arrowhead Mills, which, at that time, required a 200 pound minimum order for delivery.  Our co-op compiled orders from several families to make up the minimum.  I bought pails of peanut butter, large bags of dried beans, seeds, and grains, storing the extras in a freezer.  I was also a member of a cheese co-op and a vegetable and fruit co-op during this time, but that's another story.
The Founding of Arrowhead Mills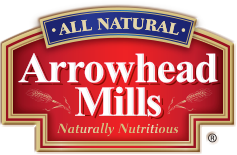 Back to Arrowhead Mills . . .  The company was founded in 1960 by Jesse Frank Ford, a Texas farmer and advocate for natural foods.  His company was based in Hereford, Deaf Smith County, just west of Amarillo in the Texas Panhandle.  Here's a little more information about Ford that will interest Texans–he was a graduate of Texas A&M where he was commander of the TAMU Corps of Cadets.  Ford was interested in maintaining soil nutrition without pesticides and producing large-scale grinding of grains.  He was also an active spokesman for the natural food industry and an activist for labor  He was the author of three books, including The Deaf Smith Country Cookbook, which I bought (and still have) when I was in the co-op. [source] My copy looks pretty much just like this one.
Here's another interesting fact about Frank Ford–according to the West Texas Historical Association, his salary was never "more than three times that of his lowest-paid employee." [source]  That seems remarkable today when the pay ratio for CEOs to workers ranges, depending on the source, from more than 200 times to over 500 times! [source]   For the history of Arrowhead Mills according to Hain, read here.
Arrowhead Mills is Sold to Hain – Quality Changes
Ford sold Arrowhead Mills to the Hain Celestial Group in 1999.  While the appearance of the products sold under the Arrowhead Mills brand looks about the same as before 1999, at least one of my former favorites is not made the same way at all.  I have always preferred crunchy peanut butter to smooth, and Arrowhead Mills organic peanut butter used to be the best.  Ideally crunchy peanut butter is made by not grinding the peanuts as long as the smooth so that there are pieces of peanut left in the mix.  That is exactly how Arrowhead Mills used to make their crunchy version, but not any longer.
Today's Arrowhead Mills peanut butter is apparently made just like all the other major brands.  They all make a lot of smooth peanut butter and, when finished, they add some chopped peanuts into the batch that is to be labeled crunchy.  Although I still prefer to have some peanut pieces in my peanut butter, I preferred the way that Arrowhead Mills used to make it.  Grinding for a shorter time tasted much better and had a more satisfying mouth feel.  If you use Arrowhead Mills products, you may know of other changes in their finished products.
Special Nutrition in Deaf Smith County Soil
While the quality of some Arrowhead Mills products is not as good as before Hain ownership, at least most of their products are still organic, and they still market many of the same types of foods, although now most come from areas other than the fertile soil of Deaf Smith County.  People who lived in Deaf Smith County were known to have far less tooth decay than those who lived in other parts of the country.  Activator X, identified by Dr. Weston A. Price, probably what we now as Vitamin K, was found to be highest in Deaf Smith County. [source]  Read more about the soil quality in Deaf Smith County here here and here.
I will continue to buy Arrowhead Mills products because they do have a wide variety of organic foods that I can use; however, I still miss their delicious original peanut butter!
The Story of Walnut Acres
The story of the degradation of Walnut Acres is a much sadder one. If you see Walnut Acres labels on store shelves today, be assured that the label/name is ALL that is left of the original Walnut Acres.  Although Walnut Acres products are organic, beyond the label, there is no similarity to the wonderful, nutritious Walnut Acres foods I remember.  George DeVault summarizes the fate of Walnut Acres concisely in What Became of Walnut Acres, "Once a Mecca for the organic faithful, it existed in name only [after its sale in 2000]."
History of the Original Walnut Acres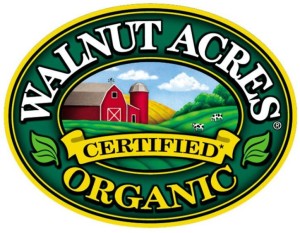 Walnut Acres was founded in 1946 by Paul and Betty Keene in central Pennsylvania.  Walnut Acres was an organic farm and mail order food company.  They grew, cooked, and sold a wide variety of organic foods from seeds and grains to canned soups and meats, all organic and made with the best available ingredients.  I subscribed to their catalog and ordered occasionally, although the shipping costs were high from Pennsylvania to Texas.  Thirty years ago, when organic foods were not as widely available, Walnut Acres was sometimes the only available source.  Everything I ordered was delicious and of excellent quality.  For 50 years Walnut Acres was a leader in the organic food movement and was very successful.  By 1994 it had sales close to $8 million.  (source)
An interesting story illustrating the excellent quality of Walnut Acres food is related by George DeVault in What Became of Walnut Acres? Walnut Acres peanut butter was so good that it changed food standards for the whole country! [Another peanut butter story!]
Federal standards stipulated that blanched peanuts must be used to make peanut butter. The contrary Keenes used whole, unblanched peanuts, complete with the vitamin-rich red skin and the nutritious heart or germ of the peanut. Federal regulations allowed up to 15 percent of non-peanut products such as sugar and saturated fats in peanut butter. The Keenes used only their unblanched peanuts, no added fat and just a pinch of salt. The result was that, in the beginning, Walnut Acres had to label its peanut product "imitation peanut butter." Why? Because it did not meet FDA's minimum standards. Simply put, Walnut Acres' peanut butter was too good. The Keenes urged their thousands of loyal customers throughout the country to bombard Washington with letters of protest. They did and, in time, FDA changed its regulations. The Keenes fought — and won — similar battles over organic beef and pastas made with whole wheat flour. [emphasis added] (source)
Walnut Acres grew, cooked, and sold many organic foods and pastured meats, including granolas, soups and canned vegetables, peanut butter, apple butter, as well as basic staples such as grains, nuts, and seeds. (source)
Walnut Acres Sold
When Paul Keene's wife Betty died in 1987, it became apparent that she had been a mainstay in managing the farm.  The Keene's daughter and son-in-law took over day-to-day operations, but the Walnut Acres was not growing as fast as other organic companies.  It seemed that new capital was needed to stay in business.  In March 1999, David C. Cole, a former executive at America Online (AOL) and venture capitalist, who had become interested in organic foods, bought controlling interest and invested $4 million in Walnut Acres. Cole's stated purpose was to increase its "online presence."  (source)
Although internet sales grew, the business as a whole did not prosper as hoped.  In June 2000, a new CEO was announced and the farm and store location was declared too remote and the plant not modern enough to continue operations there. In August 2000, the farm and store were shut down and 100 employees were laid off.  Everything was sold at auction and processing facilities were set up elsewhere.  It was said that crops remaining in the fields were harvested, packaged and given to food shelter.  And that was the end of the original Walnut Acres. (source)
Walnut Acres Today
Walnut Acres (name only) was reborn and announced in a press release January 2001.  The current company website never mentions the founders, Paul and Betty Keene, although they do say "We've been producing delicious organic foods since 1946" and claim to be true to their beginnings. (source)
The exact details of what happened to Walnut Acres are not public, but the company probably did need some reorganization.  Its methods and purpose may not have kept up with the growing demands of the organic foods industry.  In any case, Walnut Acres today is NOT the original in any way.  None of the current products are the same, only the name and the logo remain.  In other words, only the surface is Walnut Acres, the content is not at all Walnut Acres.  Maybe Walnut Acres couldn't stay in business as they were.  Maybe they could have been saved with a different management.  We will never know!  However, the original Walnut Acres produced superb, quality foods, and those who remember almost certainly miss them.
For the next chapter in Walnut Acres, Hain Celestial bought Acira, Inc., Walnut Acres parent company, in 2003.  (source)
I for one have never and will never buy the products of the current Walnut Acres.
Sources
Arrowhead Mills, Wikipedia
What Became of Walnut Acres? by George DeVault
Disclosed: The Pay Gap Between CEOs and Employees, Bloomberg Business Week
Frank Ford (farmer), Wikipedia
Deaf Smith's Secret: An Explanation of the Deaf Smith Country, by A. W. Erickson
Our History, ArrowheadMills.com
West Texas Historical Association, Wikipedia
The important vitamin K2: Dr Weston A. Price's powerful dental caries healer "Activator X", Healing Teeth Naturally
Minerals and trace elements: Vital tooth and body builders, Healing Teeth Naturally