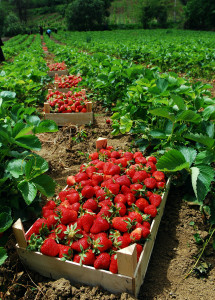 Have you been buying organic strawberries, like I have, to avoid the pesticides used on conventional strawberries?
I was surprised when I read reports about a recent study proposing a better solution to the problem of strawberry diseases because they mentioned that even organic strawberry "starts" were fumigated with pesticides.  What?  How could that be?
Yes, if you thought organic strawberries were never treated with conventional chemicals, think again!  Most of our mass-produced organic strawberries (California produces 90% of US strawberries) are grown from "starts" that were fumigated with many toxic pesticides.
Apparently all large California strawberry growers, including organic ones, use starter plants from commercial-scale conventional nurseries in northern California.
Due to an exception to the regulations for organic farming, these strawberry growers are allowed to buy "starts" from conventional nurseries if organic stock is not "commercially available." With this loophole in place since 2002, large growers would not buy from the only organic nursery, and it finally went out of business in 2009.  Unless organic growers are required to buy organic starts, there will be no organic nurseries for strawberries.
For several years, I have bought only organic strawberries to avoid the pesticides used heavily on them, partly because The Environmental Working Group lists conventional strawberries among the dirtiest produce in its Shopper's Guide (2014 Guide).  The EWG tests vegetables and fruits to determine those that are most and least contaminated.  Apples and strawberries top this year's list of the "Dirty Dozen Plus" as having the most pesticide residues.  The 2014 report says that conventional strawberry samples were contaminated with 13 different pesticides.
Even with a conventional start, I do know that organic strawberries will be far less contaminated than conventional strawberries because at least after the final planting, those pesticides are not allowed.
The Pesticide Action Network lists 50 pesticides used on California strawberries, so, yes, I will continue to buy only organic strawberries, although maybe not as often as before.  Our best hope is that better methods of disease control can be found, as in the study which prompted my interest.
Wouldn't it be better for all of us, especially our children, if we could buy real, truly organic strawberries?  I haven't been able to find local, organic strawberries, but if you're lucky enough to have access to them, they would be the best choice.  Fresh ripe strawberries are super delicious!
Sources:
Even organic strawberries are grown with dangerous pesticides
Berry toxic: Decoding the organic strawberry debacle
Organic Strawberries? Not So Much
Even Organic Strawberries Are Grown With Toxic Fumigants
EWG's 2014 Shopper's Guide To Pesticides In Produce
California poised to approve deadly pesticide for strawberry crop
California's strawberry industry is hooked on dangerous pesticides
Pesticide Use on Strawberries in 2012
Study: Integrated soil-borne disease and weed management for organic strawberries using anaerobic soil disinfestation, broccoli residue incorporation and mustard cake application
Strawberry photo credit: Shutterstock