Fresh wild-caught snapper at Harvest Organic Grille–deelicious!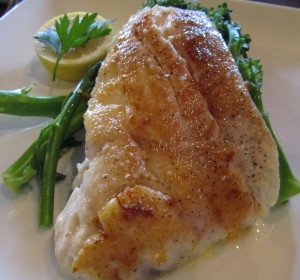 If you look around, Houston now has some great and healthy places to eat when you just really don't want to cook.  We visited one of them this week and here's what we found:  Fresh red snapper, grilled to perfection–tender and moist–what else can I say?  Oh, of course, it was seasoned exactly right (at least to my taste–I loved it).  That was my lunch selection when we ate at Harvest Organic Grille on Fountainview.  My snapper was served with crisp green broccolini.  Before our entrees were served, a waiter brought complimentary pita bread with an array of sauces–delicious, tangy, and light. 
Although I enjoyed my delicate grilled snapper, my husband's choice was super good also–grassfed ribeye cooked correctly to a medium rare, served with a side of traditional loaded baked potato–with real cheese and house-made sour cream.  We sampled both entrees, as usual, since we both want to try as many different foods as we can.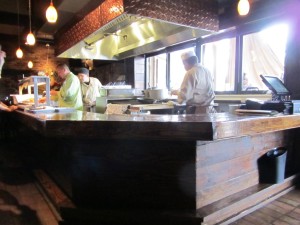 An interesting feature of Harvest Organic Grille is the up-front, open kitchen where you can see your meal as it's being prepared–no back room preparation where something strange might be done to your food.  You can watch the cooks grill, saute, and steam.  The service was very quick also.  This is one practice I really love–they never use microwaves and they don't deep fry anything!  The food, and even the house wine, is organic.  The fish are all fresh and wild-caught, the beef is grassfed, and the remaining meats are from pastured animals.  Wow!
If you have special dietary requirements, the menu has lots of vegetarian and gluten-free choices, clearly marked to make selection easy.  Although we didn't try them on this visit, Harvest Grille has some extra special fresh juices, including a wheatgrass juice shot and turnip juice.  Well, we couldn't try everything in one visit.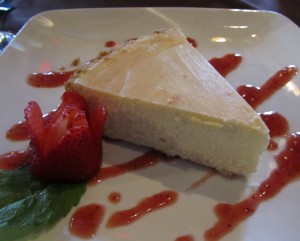 To finish the meal, we had to try one of the house-made desserts.  Well, we just had to, didn't we? If we liked the meal, I planned to let you know about it, so we did need to try dessert as well.  We chose the amaretto cheesecake–good choice–light, creamy smooth with just a hint of amaretto.  The strawberry sauce added the right amount of fruity flavor to compliment the rich cheesecake.
The wait staff and manager were friendly and helpful, explaining menu items when we had questions.  They told us about their Sunday brunch, 10 am to 3 pm, which sure sounds good–over 100 items to choose from plus an omelet bar!  As is too common for us in Houston, we live on one side of town while the healthy food restaurant is on the far, far other side, but we certainly plan to go back when we can.