On the Real Food News Front – 07-24-14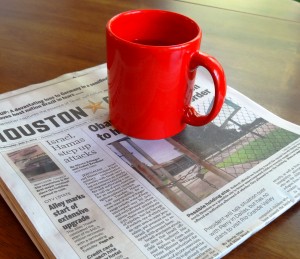 Good morning! It's Thursday news time at Real Food Houston. I've had my cup of homemade chicken broth and a banana cocoa smoothie for breakfast (today with raw milk and 2 egg yolks), followed by a cup of Dandy Blend with just a little raw milk and stevia.
Here's what's been happening on Real Food Houston. . .
Cheap food isn't really cheap!  You can't avoid the cost, it just gets transferred somewhere else.  Read my post about why the cost of food in the U.S. has dropped so much and the price we're paying for it.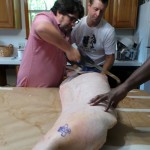 Valerie Stegemoeller has written a guest post about a class she attended in hog butchering.  She's a new homesteader at Stegesaurus Farm and also a co-leader of the Houston-Galveston Chapter of the Weston A. Price Foundation.  Cutting up meat is an art we've almost lost but is essential to the small farm and homesteader.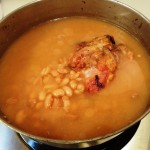 I love home cooked beans and have posted my version of Nourishing Traditions Basic Beans.  Beans, and other legumes, are not only nutritious, but they can also really help the food budget.  Just a little meat goes a long way in a big pot of beans.
They are also so versatile!  They can be served plain with some shredded cheese or made into refried beans to go with Mexican food or made into chili.  I keep some jars of beans in the freezer all the time.
Now for the news . . .
Don't forget the fermentation workshop and demo this Saturday at The Last Organic Outpost. The workshop begins at Noon. Bring water and a chair. The weather man says it will be HOT this weekend!
In one of the most important but also most depressing news stories this week, "The Michigan Department of Agriculture . . . forced Joe and Brenda Golimbieski, the owners of Hill High Dairy and Jenny Samuelson, the owner of My Family Co-op, to dump out 248 gallons of milk, to break 100 dozen eggs, and to destroy an undisclosed amount of fresh cream, butter and cheese." Although the farm is a co-op, the MDA insisted they were selling food without a license. Read more . . .
David Gumpert, author of The Complete Patient blog talks says about the MDA raid that "The government-sponsored dump of nearly $5,000 of milk, eggs, butter, and cream . . . carried a very clear and powerful political message to all Americans: We control your food and we don't like you buying your food outside the corporate food system."  Sad and disturbing too!.  Will we ultimately lose the right to choose our own food from healthy sources?  Will the government force us to eat processed junk food?
If you want to know who, besides local and federal governments, controls food, 10 food companies own almost all of our food.  The 10 are PepsiCo, General Mills, Kellogg's, Associated British Foods, Mondēlez (formerly Kraft Foods), Mars, Danone, Unilever, Coca-Cola and Nestle.  There's a link to a super graphic that shows the brands that these companies own.  For example, Nestle owns S. Pelligrino and Perrier waters and Coca Cola owns Dasani and Honest Tea.  Definitely eye-opening!
Alison Cook, food critic for the Houston Chronicle, tells us that a new Indian restaurant scheduled to open in September will use organic spices and avoid color additives. All that is certainly good news but what about the rest of the food? Will the meats be CAFO or pastured? Will the veggies and fruits be poisoned or organic? Isn't it sad that such a small improvement in food quality is the best Houston restaurant news can offer! At least the article addresses food quality.  Usually restaurant critics and reviewers, including Alison Cook, only talk about the appearance, feel, and taste of food, never the quality of nutrition. (See my post Food writers – what they don't talk about!)
We've heard a lot about antibiotic-resistant bacteria, but now there's also fungicide-resistant fungus.  New research from British and Dutch scientists show that the fungus Aspergillus, commonly found in soil and other organic material and which attacks the lungs, has apparently become resistant to fungicides like the triazoles, which are freely used in agriculture.  Breathing aspergillus is especially harmful to people with damaged lungs or weak immune systems such as from asthma or cystic fibrosis.
In nutrition news:

Although quinoa is not a traditional food in my part of the country, I want to give it a try after reading Authority Nutrition's 11 Proven Health Benefits of Quinoa (No. 1 is My Favorite).  It is high in protein (contains all the essential amino acids) and other nutrients such as magnesium, manganese, folate, and quercetin.  It is gluten-free and mild flavored.
The difference between folate and folic acid is important to women before and during pregnancy because it "helps to prevent neural tube defects in the growing fetus."  "Folate is the naturally occurring version of vitamin B9, whereas folic acid is the synthetic form used in supplements. While both versions do help to prevent neural tube defects, only folate crosses the placenta." [emphasis added]
Watermelon not only tastes super good and sweet, but it has health benefits not widely known. Read Dr. Mercola's 6 Things You Didn't Know About Watermelon.  Watermelon has more lycopene than tomato and contains citruline which may reduce blood pressure by relaxing the blood vessels.
Organic foods are good for you!  A new study, a meta analysis of 323 peer-reviewed studies, found that "switching to organic food provides as many additional antioxidants as eating between one and two extra portions of fruits and vegetables per day."  Read more . . . and more . . .   The Cornucopia Institute is concerned that the growing popularity of organic foods, the "Walmarting of organics," will lower organic quality, weaken standards, and hurt small farms.
Real Food Forager has some good tips to avoid the poison fluoride that is often added to municipal water.  I had always wondered about how to prevent adding fluoride to backyard garden plants.  Her recommendation is to water the roots where there is less uptake of fluoride rather than the leaves plants where uptake is greater.  She also has suggestions for detoxifying fluoride.
Looking for high protein foods is currently "in" for over half of adults.  Cereal manufacturers are taking advantage of the fad to boost falling sales by adding GMO soy to their products.  For example, Cheerios Protein is labeled "high protein" which comes from added soy and lentils, and they are not organic.  To offset the unpleasant taste of the soy, there are 9 grams of added sugars under various names like "sugar, brown sugar, corn syrup, molasses, carmelized syrup and something called "Refiner's Syrup," which is apparently a byproduct of cane sugar manufacture."  [source] Instead get your protein from real foods like grassfed beef, eggs from pastured chickens, whole raw milk, and properly prepared whole grains.
Dr. Kelly Brogan is concerned about the risks of routine ultrasounds during pregnancy.  The last time the effects were tested the study used older, less powerful equipment.  Much is still unknown but animal tests have linked "altered learning, memory, and neuroanatomy of those mice."
Low-carb diets shouldn't be lumped into the "fad diet" category.  They have been recommended for weight loss for a hundred and fifty years.  Recent studies have confirmed their safety and effectiveness.  Authority Nutrition lists 6 Reasons to Stop Calling Low-Carb a Fad Diet.
Not all news is bad! Here are some interesting stories on the brighter/lighter side.
Fermented foods are a natural remedy for food poisoning. Cultured Food Life shares her family's experience with food poisoning several years ago. She was up and feeling much better less than half an hour after drinking the juice from fermented veggies.
If you have a home garden, there are safer ways to get rid of pest rather than using poisons. DIY ingredients can include garlic pepper spray, baking soda, and milk. Read more about Gentle Gardening Arsenal.
If you use social media you will get a laugh from this hilarious musical video from Weird Al Yankovic–Word Crimes.

Now here is a selection of delicious, nutritious recipes from other Real Food bloggers to help keep you healthy and happy!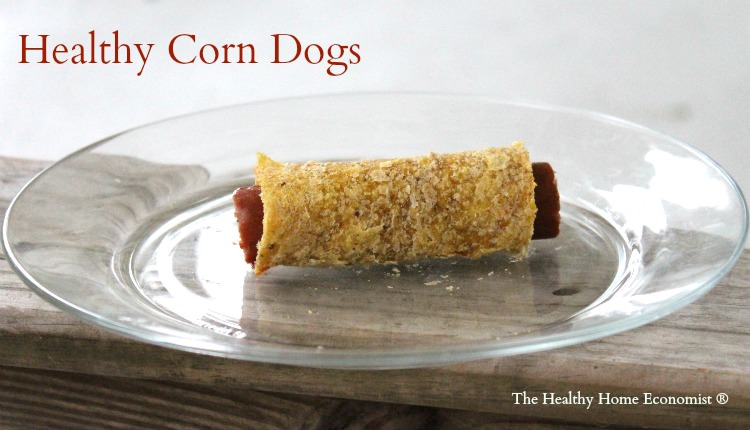 Healthy Corn Dog Recipe
If you really love corn dogs but have been avoiding them because they are unhealthy, here's The Healthy Home Economist's version that will allow you to add them back into your menu.
Ultimate Paleo Chocolate Chip Cookies [made with chestnut flour]
This is a new one on me.  I had not heard of using chestnut flour before.  The blogger says that it is gluten-free and has 96% less phytates than the almond flour commonly used in paleo and low-carb recipes.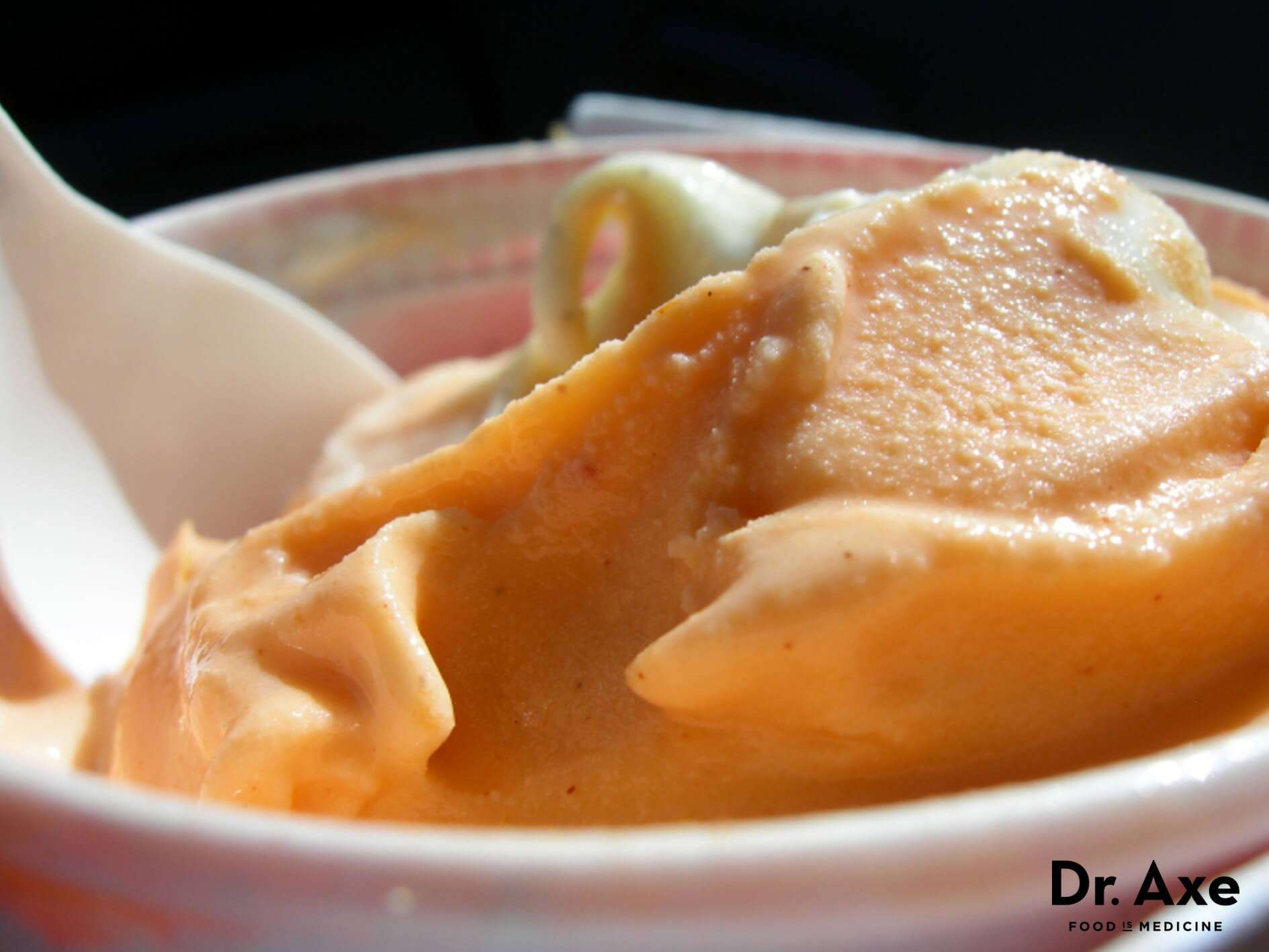 Mango Coconut Ice Cream
Easy and quick.  If you like mangos try this simple ice cream recipe.  You can use either coconut milk or whole milk.
Second ferment your kefir
If you find homemade kefir just too sour to drink, try this method to mellow the flavor.  You can add fruits too.