Is Glyphosate (Monsanto's Roundup) Used On Wheat?

Yesterday [November 13, 2014] I posted an article on Facebook that said many people's issues with wheat digestion may be due to the poison sprayed on the crop rather than to true gluten intolerance.
The post got quite a few views very quickly.  It seems that many people are concerned about gluten intolerance and poisoned food crops.  The article's claim is that glyphosate (an active ingredient in Monsanto's Roundup) is used on wheat crops and may be a cause of digestive issues mistakenly attributed to gluten intolerance.  Two of the comments to my Facebook post caught my attention and prompted me to take a more careful look at the article's claims.  Is glyphosate actually used on wheat crops in the U.S. and could it be causing digestive problems?
One reader said: "Not sure where this info comes from, but I know of no farmers who do this and selling to farmers is our business.."
Another reader re-posted a longer comment (from the original article), of which I will quote only part: "Yes, we are finding this article to be very *interesting* as our family has been wheat/cattle ranchers for…generations. And we've never heard of anyone doing this and we ourselves sure don't. . . ."
These comments and others to the original article seem to imply that using glyphosate on wheat is an uncommon or nonexistent practice.  I thought the comments deserved to be investigated.  If I had posted an article that was incorrect, I wanted to know!
As usual, I did a Google search on the topic of glyphosate application to wheat crops.  I found lots of support for the fact that applying glyphosate to wheat is common and has been widely used for the last 15 to 20 years.
Dr. Stephanie Seneff, a professor at MIT, says in a quotation from the  [this is a long quotation, but it has useful information that explains how glyphosate used on wheat could cause digestive–and immune system–issues]:
The use of glyphosate on wheat crops has risen in tandem with the rise in celiac disease. In fact, it correlates to a greater degree than glyphosate usage on corn and soy.

According to Dr. Seneff, desiccating non-organic wheat crops with glyphosate just before harvest came in vogue about 15 years ago. Interestingly enough, when you expose wheat to a toxic chemical like glyphosate, it actually releases more seeds. "It 'goes to seed' as it dies," Dr. Seneff explains. "At its last gasp, it releases the seed."

This results in slightly greater yield, and the glyphosate also kills rye grass, a major weed problem for wheat growers that is resistant to many other herbicides. What they're not taking into consideration is the fact that rye grass helps rebalance the soil, and from that perspective is a beneficial plant.

So, most of the non-organic wheat supply is now contaminated with glyphosate. A large percentage of processed foods are made from wheat, and this helps explain the explosion of celiac disease and other gut dysfunction.

What happens is that the villi in your gut get destroyed by the glyphosate, which reduces your ability to absorb vitamins and minerals. Also, wheat contains gliadin, which is difficult to break down. Normally, a reaction takes place that builds connections between different proteins in the wheat.

But glyphosate gets right in the middle of that process too, resulting in wheat that is highly indigestible. Dr. Seneff and her co-researcher Dr. Anthony Samsel believe the glyphosate may attach to the gliadin as a consequence of a chemical reaction. The end result is that your body develops an immune reaction. [source] [study]
A long-time wheat farmer had this to say about glyphosate use:
Keith Lewis, a wheat farmer, left this insightful comment about modern wheat growing practices:

. . .

I have been a wheat farmer for 50 yrs and one wheat production practice that is very common is applying the herbicide Roundup (glyposate) [sic] just prior to harvest. Roundup is licensed for preharvest weed control. Monsanto, the manufacturer of Roundup claims that application to plants at over 30% kernel moisture result in roundup uptake by the plant into the kernels. Farmers like this practice because Roundup kills the wheat plant allowing an earlier harvest.

A wheat field often ripens unevenly, thus applying Roundup preharvest evens up the greener parts of the field with the more mature. The result is on the less mature areas Roundup is translocated into the kernels and eventually harvested as such.

This practice is not licensed. Farmers mistakenly call it "dessication." Consumers eating products made from wheat flour are undoubtedly consuming minute amounts of Roundup. [source]
The article "Glyphosate: A Trajectory of Human Misery," says that "Glyphosate is used not only on Roundup Ready crops, but also on glyphosate-sensitive sugar cane and wheat shortly before harvest, when it acts as a dessicant. It's also used as a dessicant on Roundup Ready sugar beets, canola, and cottonseed for oils, among others."  That same article also reminds us that "Glyphosate is systemic in plants, so it cannot be washed off. If it's used on a crop, it will be in the food produced from it. All the soy, sugar, cotton, and corn that ends up in packaged foods is carrying glyphosate into our bodies."
The manufacturer of Roundup, Monsanto, recommends its use on wheat crops to reduce weeds and provides detailed guidelines on when and how to apply it.  Page 32 of the guide has a chart for application of Roundup to crops, including wheat.  Although Monsanto says that Roundup is not a "dessicant," it does give instructions on how to gain "significant harvest management benefits" from the use of it.
This is the page (36) from Monsanto's guidelines that defines the benefits of using Roundup on wheat as a harvest management technique: [source]  (click on the picture for a larger image)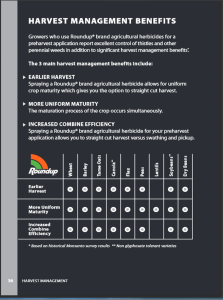 You can do your own Google search and find much more information about using Roundup on wheat crops, but my research supports the claim that Roundup (glyphosate) is commonly used on wheat crops and not just on GMO Roundup Ready crops and that there is evidence that it adversely affects our digestive system.
I see two ways we can avoid glyphosate in wheat–eat only organic wheat and/or know the farmer (and his farming practices) that supplies your wheat.
Update May 17, 2015: I found this very interesting map depicting the distribution of glyphosate use in the US. Although it is not limited to wheat, the map does indicate where glyphosate is heavily used. [source: Source: USGS, Pesticide National Synthesis Project]
Update, June 15, 2015:  Glyphosate use is not limited to wheat, it is also used on oats and other grains pre-harvest to kill weeds.  Glyphosate (Monsanto's Roundup) is Applied to Oats, Not Just Wheat!
You might also want to read these related posts.  Also, read the comments for additional information about glyphosate:
Glyphosate is already in our food, air, and water: What is it and why should we care?
Are We Sacrificing Our Children to Profits From Glyphosate (Roundup) and Roundup-Ready GE Crops?
Study finds significant new evidence that GMOs can cause harm
What Does Genetically Engineered (or GMO) Mean?